Miller-McCune Publishes Their List of The Seven Most Embarrassing States In Terms of Corruption
Seven states - Virginia, Illinois, California, New York, Tennessee, Arizona and Texas - are so corrupt that they are now listed as the most embarrassing to their citizens.
Ranking States' Citizen Embarrassment Levels
Amid a rush of political scandals and missteps, we figure that some citizens are more embarrassed for their state than others. We look at the shameful headlines and determine where these states would rank on the citizen embarrassment level.
By Matt Palmquist , Miller-McCune.com
LINK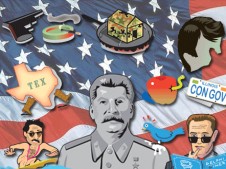 Ranking Citizens' Embarrassment Levels
Texas
Illinois
Tennessee
Virginia
New York
Arizona
California
If we've snubbed your state or left out a well-qualified candidate for our collection, please give us your nomination and your reasoning by leaving a comment below or by e-mailing theeditor@miller-mccune.com. Until then, we'll just focus on our not-so-magnificent seven: Virginia, Illinois, California, New York, Tennessee, Arizona and Texas.
On the Media: Publisher Sara Miller McCune has serious goals for journalism
Her aim to spread the word on important scientific research results in Miller-McCune, a wonky social sciences magazine that with a little more storytelling could expand its base.
June 02, 2010|James RaineyReporting From Santa Barbara
LINK
Revenue plummets right along with dreary circulation. Time slashes its staff. Newsweek hovers near extinction. Survival and stable footing seem assured only for the frothiest and most specialized magazines.
Yet one woman looks into this bleak media sea and sees an opportunity, if not to make money, to fill a void with serious, solutions-oriented journalism.
The result is Miller-McCune, a bimonthly journal that focuses on social issues and public policy with the same passion that supermarket glossies lavish on "Biggest Loser" photo spreads and Heidi Montag's latest turn under the plastic surgeon's knife.
Though virtually unknown to the general public, the 100,000-circulation magazine and a companion website (www.miller-mccune.com) have gained a toehold with academics, government officials and journalists.
Sara Miller McCune of Santa Barbara created the magazine two years ago to bring a wider public to the sort of social science research that her academic and journal publishing company, Sage Publications, has nurtured for 45 years.
Miller-McCune, the magazine, comes across as that bright and earnest new student, full of promise but still striving to get closer to the head of the class. Its greatest gift is a founder and president who is that rare creature — willing to pay for quality reporting and writing without demanding editorial control.
Charles Peters, the acclaimed founder and former editor of the Washington Monthly, said Miller-McCune landed on his desk one day about a year ago. "I like it," Peters said. "It has an independent, original cast of mind."
Miller McCune and her late husband, George, had talked for many years about trying to expand the impact of the research they helped spread via the more than 560 academic journals — including "Autism," "International Sociology" and "Youth Justice" — that they published.
In 2007, the publishing magnate committed roughly $2.2 million a year for five years to launch the magazine, a commitment she intends to extend. That's been enough to print six editions a year and launch the website, which is updated more frequently.
"It's all very well and good to be publishing the academic literature," Miller McCune, 69, said this week at her home in the hills here, "but if it isn't penetrating into the minds of policymakers, the corporate leaders, the people who count … then you are not doing the whole job."
Corruption Leads to More Corruption
Can California Redistricting Reform Change Congress?
The Oxymoron of 'Business Ethics' Proves Its Worth
The Rational Ruffian: Why Crime Pays
Ideological hijinks, bipartisan incompetence and outright corruption have infected state capitals — and mortified citizens — across the U.S. Is there a cure? We're supplying a dose of satire; if you have a more effective therapy let us know.
About Miller-McCune (www.miller-mccune.com)
Most journalism wallows in problems. Miller-McCune uncovers solutions, placing it at the center of dialogue and harnessing the latest research from definitive sources to answer today's most pressing questions about education, politics, the environment, economics, urban affairs, health care and more. Since its 2008 launch, Miller-McCune has won the Utne Independent Press Award 2009 for science/technology coverage and the 2008-09 Society of Environmental Journalists Award for Outstanding Explanatory Journalism, and been named one of Library Journal's "10 Best Magazines" in 2009 and MIN's "Hottest Launches of 2008." Miller-McCune is published bimonthly in print and continuously online by the nonprofit Miller-McCune Center for Research, Media and Public Policy, headquartered in Santa Barbara, Calif.