NYC Teacher Francesco Portelos Challenges The Department of Education on The Issues of Retaliation and Secrecy by Betsy Combier
Francesco started his blog after he found his school's Principal, Linda Hill, was hiding improper documentation of school funds, would not answer his questions, and attacked him for two months. Francesco was removed the next month and put into a rubber room. In Francesco's Federal case the City Law Department, representing the Department of Education and Principal Hill, submitted a gag order to the Judge to shut him up.
Francesco Portelos is a very intelligent man, a charismatic and excellent teacher, father, and blogger. It's the last category which may have been the "
straw that broke the camel's back
" and landed him in the rubber room - which 'no longer exist' (according to the UFT's
April 15, 2010 agreement
which neither the UFT nor the NYC DOE give a hoot about). In order for the charges to be validated and Francesco punished, the DOE will have to prove that he intended to "bring harm" (prove it first, DOE) to the school, to Linda Hill, and/or the students. Many people now know, after reading
the blogs
and
websites
on the global internet, that government personnel lie....so do union Presidents and staff. The
media doesn't get the story straight
, either.
(
The Staten Island reporter did a better job
) As you will see below,
Francesco's story
is generic, a mixture of
DOE retaliation
, dislike, exposure of secrets, and ludicrous errors. As we can see from the decision of the arbitrator in Portelos' 3020-a, it is important to see how the use of blogging and social media can put the NYC DOE in a
partnership with the arbitrators
who decide penalties.
Francesco
filed an Appeal
, called Article 75, in Richmond County, a day late and was denied.
Soon after he was removed from his classroom, I filed a Freedom of Information request for Principal Linda Hill's personnel file. Here are the results of my FOIL request:
Hill-files
school-files
I did not start my blog, NYC Rubber Room Reporter, until 2007. but since I studied the Soviet and American Military Industrial Complex at Columbia University and at Johns Hopkins' School For Advanced International Studies, and my dad was Assistant Attorney General of the State of New York under Louis Lefkowitz, I knew that governments exist because they can keep their operations secret.
Secrecy is a major issue in politics
, and whenever a whistleblower comes along, this person becomes the magnet for investigations, and harm. Really, what do cockroaches do when the light turns on? They scamper into the nearest dark crack or hole. NYC DOE personnel despise anyone who challenges them on their "right" to harm people by subterfuge and threats of harm. They want the victim to be so scared of future retaliation that they run away, never to be heard from again.
Francesco did not fit this approved status. He asked the question, "where's the money?" and, when
Principal Linda Hill
retaliated against him for asking questions she did not want to answer, he started his blog, Protectportelos,
to tell the public everything that was said and done at the school
.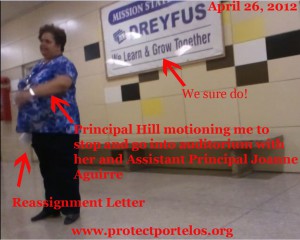 Linda Hill at IS 49
Allegations Against Mr. Portelos
LINK
On April 26, 2012 I was removed from my position as an educator. This was after I tried resisting four months of attacks that began when I raised issues at
NYC Public School Berta A. Dreyfus I.S. 49
. I have not been permitted back to educate the inner city youth there ever since. Why? I was informed that I was under investigation. NYC DOE Executive Director of Human Resources, Andrew Gordon, stated he and then Chief Deputy Counsel Courtenaye-Jackson Chase were the ones who decided to remove me based on some "very serious allegations". I thought to myself "I know I didn't do anything wrong, so there must be some seriously false allegations made". I was sent to a basement 20 miles away to do nothing for months and was told nothing. The taxpayer continued to pay my salary and that of the substitute. Good thing there is a big surplus in funds for education.
I was not going to sit and rot at a desk (rubber Room) when I should be teaching.
I told my union provided attorney that I want to speak to investigators about whatever they have. He was reluctant and advised me against it. "Anything you say can and will be used against you." he warned. "I don't care. I want everything on the table. No guessing games." He was able to set up a meeting with investigators from the Special Commissioner of Investigation's office. Two professional gentleman met with me on June 14, 2012. We sat for over 2 hours at my attorneys office as they read out to me the long list of allegations. They read the first 3 that included some bogus real estate claims and a fake a text program I never heard of. I thought "No problem. That's it?" Then they proceeded to state there is an additional 15 or so more allegations. I then thought to myself "Oh boy. I know I didn't do anything wrong, but can I dodge all these bullets?"
It turns out I can. As they read through the dates and names of those making the allegations, my nervousness went away. By the time they finished, I thought "That's it? These are the serious allegations? This is why the students were educationally neglected?
Since that June 14, 2012 day, the allegations continued to mound and mound. It got to the point that investigators would visit me in exile and joke about it. "Surprise!…You're the subject of a new investigation." one stated and threw his hands up. "Well Mr. Portelos, this should be of no surprise, but you are the subject of another investigation." another from OSI would say. It got to the point that I started wearing these frivolous allegations like a badge of honor. How scared were they of what I was uncovering that they were throwing anything and everything?
Here are all the allegations against me that started with SCI Case 12-537. Keep in mind that these all started AFTER I had case 12-533 opened (notice the numbers). Case 12-533 was reported January 26, 2012 and is still open (over 600 days). It alleged that Principal Hill was sitting and getting paid at the School Leadership Team, while also getting paid for
OSYD
's Achieve Now Academy at the same time…double dipping?
See this file that shows alleged financial misconduct
Allegations 1, 2 and 3 were all submitted on January 30, 2012 – Just 3 business days after my first allegations of Principal Hill's financial misconduct were reported (Jan 26) and UFT Chapter Leader, Richard Candia, walked out of a UFT meeting as I spoke and demanded I resign as UFT Delegate (Jan 27).
1. January 30, 2012- Principal Hill called and stated that Mr. Portelos hacked
www.dreyfus49.com
, and took her administrative privileges away.
2. January 30, 2012- Principal Hill received an anonymous call that Mr. Portelos used an iTunes program called Fake a Message to email a student and make it appear that it was sent by the Principal.
3. January 30, 2012 Rich Candia (UFT Chapter Leader) claims that Mr Portelos conducts real estate business during class time. Also, an "anonymous caller" left a message at SCI on Sunday January 29, 2012 and stated the same as above.
4. February 22, 2012- Principal Hill alleges that Mr. Portelos requested that a paraprofessional work with him and other teachers on a Learning Technology Grant (LTG) after school to help his students. Principal Hill declined and Mr. Portelos apparently had him work anyway and submit time sheets.
5. March 2012 -Assistant Principal Joanne Aguirre discovered a website called protectportelos.org and it had student names mentioned. Parents did not complain.
6. March 2012- Principal Hill alleged that the website,
protectportelos.org
, had pictures of students. Parents did not complain.
7. March 2012- Principal Hill and Richard Candia made allegations that Mr. Portelos sent emails to the staff about his investigation.
8. March 2012- Principal Hill made allegation that there was an agreement to shut down Protectportelos.org and he did not.
9. March 28, 2012 -Rich Candia claimed that Mr. Portelos hacked into the website www.dreyfus49.com and copied personal email between him and Principal Hill and distributed it to the staff.
10. March 28, 2012 -Rich Candia alleges that Mr. Portelos walks back and forth in front of his classroom everyday and intimidates him. He was going to file a police report.
11. March 29, 2012 -Principal Hill alleges that she directed Mr. Portelos to shut down the website he owns and he did not. He also read, printed and distributed private emails from Rich Candia.
12. April 5, 2012 -Assistant Principal Joanne Aguirre alleged that Mr. Portelos asked the Parent Coordinator for pictures of a social gathering to possibly use to Photoshop Aguirre.
13. April 5,2012 – Assistant Principal Joanne Aguirre alleged that three emergency buttons in rooms around the school were blinking and that Mr. Portelos must be responsible.
14. April 2012 -Rich Candia emailed investigators stating again that Mr. Portelos hacked into the website he owned and distributed personal emails.
15. April 2012 -Rich Candia emailed investigators that Mr. Portelos sent a secret code to Rich Candia's phone and retrieved his text history and distributed it to the staff.
16. April 2012 -Rich Candia emailed investigators that Mr. Portelos bashed IS 49 on Facebook.
17. April 2012 -Rich Candia alleges that Mr. Portelos "mailed" 2 harassing letters to Mr. Candia's home.
18. April 2012 -Rich Candia alleged that Mr. Portelos posted pictures of students without parental consent. No parents have complained.
19. April 2012 -Rich Candia alleged that Mr. Portelos sent an email to the staff urging them not to share union matters.
After Mr. Portelos was removed from school:
20. May 2012 -Principal Hill alleges that Mr. Portelos emailed parents telling them that he posted lessons on his private website
mrportelos.com
21. May 2012 -An unidentified teacher stated that they saw a message pop up on one of his classroom computers stating "Mr. Portelos' class is fun".
22. June 2012- Mr. Portelos also worked on his own clothing site called
www.faceshop.me
.
23. September 2012- Principal Hill alleged that Mr. Portelos remotely connected to his STEM lab and forced users to connect to his site www.mrportelos.com
24. September 2012- Teacher Jennifer Wolfson, Principal Hill and Richard Candia alleged that Mr. Portelos shared her teacher certification information with a parent in the community and it included her address and social security number.
25. October 2012- Principal Hill Alleged that Mr. Portelos hacked and manipulated the school's voice mail system and routed listeners to his website
www.occupywarrenstreet.org
.
26. November 29, 2012- Principal Hill asked that Mr. Portelos redirected the site he owns, dreyfus49.com, to another site he owns, protectportelos.org.
27. November 30 2012- Principal Hill alleged that Mr. Portelos put hidden cameras and microphones in the staff lounge.
28. December 14, 2012- Superintendent Erminia Claudio alleged Mr. Portelos forwarded a video of an AP allegedly frisking a female student to community parents. A parent was going to put it on YouTube.
29. March 2013- Principal Hill alleged that Mr. Portelos informed students how to smuggle weapons into school on his blog.
30. April 2013- Principal Hill alleged that Mr. Portelos sent an anti-semetic, sexist and racist email to parents because he used the word "kosher" and his signature file quoted Martin Luther King Jr.
31. April 2013- Principal Hill alleged that Mr. Portelos uploaded a video of a student on youtube without permission.
32. May 2013- Principal Hill, Teacher Susanne Abramowitz and Teacher Richard Candia alleged that Mr. Portelos ordered several magazines to the school in the complainant's name and then sent them the bill for it.
And there you have it. 32. All of which I believe, and can back up, are….unsubstantiated. SCI published a report about some of these that was extremely vague. So vague that even an AAA arbitrator could not make sense of it.
Francesco wrote Superintendent Erminia Claudio a letter: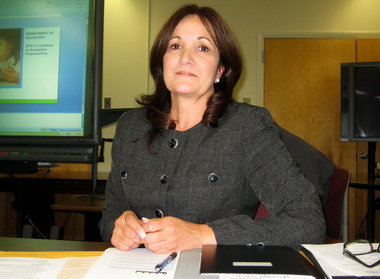 Erminia Claudio
Dear Superintendent Erminia Claudio,
II was summoned to your District 31 office for a disciplinary meeting last Friday May 3rd. At the meeting I indicated that I would like to exercise my right as a citizen and record the conversation. You indicated that I cannot. The meeting was postponed. I thought due to pending attorney review of the matter. This Wednesday I received another letter (attached), indicating I should meet you again today. In addition you wrote I "have no right" to record as per the Collective Bargaining Agreement. You never cited an article or section. I believe that is because one does not exist and that was just another false statement made to me.
After being greeted by three School Safety Agents, I entered your office and stated that I'm again exercising my right to record. I also stated that the UFT told me to "stick to my guns". You stated there is a policy against it. You failed to reference any law, policy, regulation or article of our contract that prohibits me from recording. I thought you had a week to discuss with attorneys. You tried to imply that I did not want the meeting to take place. That is not true. I always want to explain what is happening and have done so many times on my website www.educatorfightsback.org.
The meeting ended and I left, but not because I wished it to. I'm more than happy to address the SCI report, without recording, if you can show me something that states I legally can't. I'm all about following the law.
On my 380th day of wrongful exile, I will drive 20 miles from my community school, and sit at an empty cubicle. The taxpayer will continue to cover that bill. This parent and educator is waiting to see when someone will step up to resolve this issue that has negatively affected countless children and adults.
Keep in mind that I'm still uncovering more allegations of financial misconduct on Principal Linda Hill. $40,000 in unsupervised overtime? Using the school credit card for personal items? Breaking down payments so she doesn't need authorization? Your signature appears to be missing from all time cards. Why? See
All Down Hill
Francesco filed a Federal lawsuit to obtain justice. During this proceeding,
which is ongoing
, he received approximately
3,000 emails and posted many of these on his website
. This is a
nightmare for the NYC DOE
, so the NYC Law Department filed a
Motion for a Protective Order
against any further exposure of intra-agency actions. This is, in all respects, a "gag" order.
Francesco submitted opposition
.
Ironically, I was in the same room with Federal Defendant Linda Hill and OSI Investigator Dennis Boyles on Wednesday, November 6, 2013. One of my teacher clients asked me to go with her to see OSI Investigator Katherine Higgenbotham at OSI. My client was told to come in for an interview about the complaint she filed against the Principal of her former school. She no longer works for the DOE, and of course I don't either. We got to 65 Court Street, 9th floor, a little early, so we sat in the waiting room not far from the large wall poster with
DOE CEO Dennis Walcott's
picture peering out over the top of a bouquet of fake blue roses, with glitter on them (how appropriate - see picture).
OSI Waiting room
When Ms. Higgenbotham came to the door of the offices to bring my client back inside for the interview, she looked at me and said, "Who are you"? Then "Do you work for the Department?" (my answer: "No") . My client told her that I was the advocate about whom she wrote would be accompanying her. Higgenbotham, in line with bizarre DOE "policy" told us that due to confidentiality I could not come inside, she just could not talk with my client with me in the room. We told Higgenbotham that my client waived all confidentiality, and that she did not work for the DOE Either, but the answer was still NO. So, my client went to the back office, then came out a few minutes later. She told me that Higgenbotham had told her she could give her an oral statement. My client said "No, I'm going to write a statement and I'm going outside to do it". She came outside, we wrote a statement about the principal in the waiting room, and she went back, with the statement and proof that OSI Investigator Andy Mina had already investigated the Principal and had dropped it. Higgenbotham knew nothing about this, she claimed, and said that this "changed everything".
A CSA Representative who knows me came into the room and sat down. A short while later, Linda Hill came in and sat down. Turns out
Ms. Hill was called in to be interviewed for wrong-doing
, after she did not report a possible incident in her school, reported by none other than...Francesco Portelos. The OSI Investigator is Wei Liu. I was very surprised at the coincidence of being there at the same time as Linda Hill. Ms. Hill is very upset with Francesco, she told her CSA rep. He is retaliating against her, she said, and the CSA rep. agreed, it's "simply awful". The CSA reminded Principal Hill, Then
Dennis Boyles walked in
, and strangely, did not see me at first. Mr. Boyles tried to get $5000 from me in 2004, but I refused to take his 'request' seriously.
Boyles put his hand on Ms. Hill's right shoulder and said, "Ms. Hill and I are personal friends...this Portelos guy, he is legitimately nuts...we shouldn't worry about him, he is in a rubber room". Dennis was speaking very loudly. Then Investigator Wei Liu came and asked Ms. Hill and her Rep. to come into the office - behind the locked doors - and Dennis started to leave the room. As he was turning the corner to leave, he looked back for a quick second. He disappeared for less than a minute, and then came back, and came over to me and my client. I said, "Hello, Ms. Boyles, how are you?" He grunted "fine" and then asked my client 3 times whether she needed anything. Neither of us told him her name. Then, he went into the office after asking the receptionist to buzz him in.
The push to shut Francesco up continues as he proceeds with his 3020-a "arbitration" (which is more like a criminal trial).
Arbitrator Felice Busto
, a very sweet lady who used to be connected with a thoroughbred rescue organization named
ReRun
, has asked NYSUT Attorney Chris Callagy and DOE prosecutor Jordana Shenkman to refrain from discussing any part of the 3020-a or write or post anything. Busto has also asked members of the public to not post the proceedings, and even though I do not have to comply, I will do whatever Arbitrator Busto requests at this point. Im sure that the entire "trial" will be on my blog and Francesco's when it is over and the decision is made.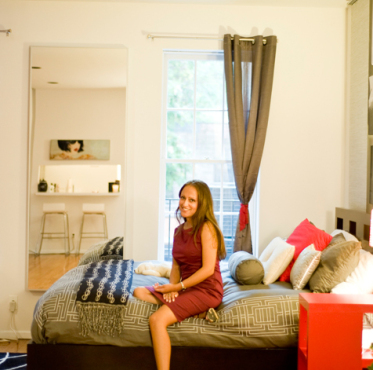 NYC DOE Gotcha Squad Attorney Jordana Shenkman
So, I will not discuss any of the testimony or what has transpired during the hearing, but I will tell you here a little bit about the people involved.
NYC DOE Attorney Jordana Shenkman loves being the center of public attention
, it seems. She allowed Time Out magazine to do a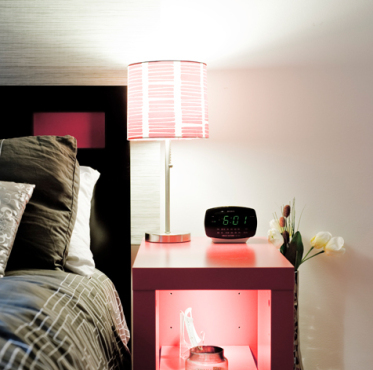 spread about her apartment near me on the Upper East Side of Manhattan. Ms. Shenkman, her co-prosecutor in the Portelos 3020-a Frances Hopson, and DOE Attorneys Jeffrey Gamils and Philip Olivieri, all now working for the Gotcha Squad,
were all appointed Assistant District Attorneys in the Bronx, September 2004
.
I have been watching and documenting the
destruction of truth and integrity in the NYC Department of Education
since 1999, when I,
PTA President of Booker T. Washington MS 54
, asked Lawrence ("Larry") Lynch, Principal, when we, the parents, would get our $13,000+ raised at a Barnes and Noble fundraiser back. He gave our check to District 3 Superintendent Patricia Romandetto the money so she could "see it". As PTA President I was a member of the School Leadership Team (SLT) and saw that the Comprehensive Education Plan (CEP) which we were responsible for writing, had no data in it. I went to the District 3 office and a person there handed me a copy of the CEP which Larry Lynch had handed in - with the Xeroxed signatures of all of us from the previous year, the year that he was given $1 million in Title 1 funds the school was not eligible to receive. I was also given information that proved the special education students at MS 54 were not getting their services, and the money was flowing into the District 3 office through the unethical and dirty hands of DJ Sheppard, DOE Family Engagement Representative. I wrote a report about all of this and handed it in to District 3 on June 5, 2001, soon after winning the PTA President position for the third time (3 of my 4 daughters attended MS 54, so I was there more than 7 years). On June 7, 2001 DJ Sheppard, 10 white parents, Larry Lynch, and staff of Pat Romandetto, came to the last PTA meeting of the year and
called me a "liar, child abuser and thief
". The DOE created an "investigation" against me and went after all 4 of my children. The investigator, Richard Switach, became very friendly and told me how he had received the information, and who was behind it. He mentioned the names of DJ Sheppard and Theresa Europe.
Several years later, I worked with the Chinese parents at
Stuyvesant High School in exposing the theft of money there
, and we were all made into monsters for doing this. My name was defamed by parent Paola De Kock, who was then gathered into the clique run by Class Size Matters' Leonie Haimson, who vowed never to have my name on her blogs, because of my exposing of theft.
So in 2003 when I started visiting the rubber rooms, asked by
David Pakter
to speak there with UFT members, I was not completely shocked with the false claims and baseless charges filed against tenured teachers. Luckily, I was given
the "Mein Kampf" of the Bloomberg administration, the successful removal of the NYC Board of Education and a general public vote,
as a way to obtain and keep democracy out of public schools. I thought that someone had to document this process known as "the rubber room", or "rubberization" (my definition of 'rubber room' is that this is not a place but a process), so I started
attending the teacher trials known as 3020-a
. My first "teacher trial" lasted several months, the arbitrator was Senior panel member
Martin Scheinman
, and David's NYSUT Attorney was Chris Callagy.

Betsy Combier and NYSUT Attorney Chris Callagy
We all got to know each other very well. I have been documenting the teacher trials ever since, for my book. The purpose of my writing on my blogs, website, and my book is to stop this random, arbitrary and shocking mess of teacher abuse in NYC and America, as well as parent and student harassment. Sadly, parents attack other parents and school administrators use students to get false claims passed on to hearing officers as "facts". All of this I hope will stop.