Seven years ago, the state legislature carved out a special agreement that so far has taken more than $200 million in lottery revenue — money that otherwise goes to New York's beleaguered schools — and given it to the New York Racing Association (NYRA), a not-for-profit corporation known for running of one of America's most glamorous horse races, the Belmont Stakes, but also for allegations of corruption ranging from racetrack tellers laundering drug money to the chair buying the favor of a top legislator. The sweetheart deal was intended to help the racing organization regain solvency and repay a large state loan, but in the end NYRA managed to keep the loan as a gift — and to keep the sweetheart deal, too.
I worked for political analyst and lobbyist
Henry ("Hank") Sheinkopf
from January 2007 to August 2007, when I quit to work for Randi Weingarten at the UFT. I saw the corruption of NYRA and New York State first hand, even wrote an
Affidavit
for Carl Paladino exposing Andrew Cuomo, who was working on winning the election for NY State Governor.
The buzz words in this vortex of inequity are: Hillary Clinton, Sheldon Silver, Mike Bloomberg
Many reporters called me to discuss my information after the information was sent to all media outlets. Not a single publication or media outlet mentioned anything about Cuomo's corruption in this matter. Not one.
Betsy Combier, Editor
Parentadvocates.org
Fred LeBrun: What Is It Cuomo Is Hiding?
3/25/2012
The Corruption of Andrew Cuomo Part 1:The Aqueduct Racino Bidding Process
10/31/2010
The Aqueduct Casino Scandal in New York City Shocks The Public With The Wide-Spread Corruption
10/22/2010
Andrew Cuomo's Corruption And Fraud On The People Of New York State: The Money Business
10/22/2010
$200 Million Of School Funds Went To Racetracks Instead
In New York state, lottery money is supposed to pay for public education. So why did officials use it to bail out a horse racing promoter? A BuzzFeed News investigation.
by Kevin Townsend
LINK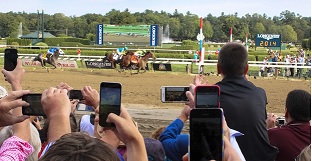 Saratoga
The
state of New York diverted hundreds of millions of dollars from education
to a scandal-plagued horse racing operator, Buzzfeed News has found.
Seven years ago, the state legislature carved out a special agreement that so far has taken more than $200 million in lottery revenue — money that otherwise goes to New York's beleaguered schools — and given it to the
New York Racing Association (NYRA)
a not-for-profit corporation known for running of one of America's most glamorous horse races, the Belmont Stakes, but also for allegations of corruption ranging from racetrack tellers
laundering drug money
to the chair
buying the favor of a top legislator
. The sweetheart deal was intended to help the racing organization regain solvency and repay a large state loan, but in the end NYRA managed to keep the loan as a gift — and to keep the sweetheart deal, too.
Now the Audit Director of the Office of the New York State Comptroller has told BuzzFeed News that the state agency has completed an examination of possible misuse of NYRA's capital expenditures. The results of its audit will be released in the coming weeks.
NYRA's chief spokesperson, John Durso, Jr., told BuzzFeed News he could not comment on the audit, but that the racing group has entered a new era: "New management, in place since 2013, began a process which successfully culminated in an operating profit of $1.5 million, the first in 13 years. That's a result of hard choices, running the organization like a business, and continuing to focus on the interest of our fans."
The $200 million carveout — the full extent of which has not previously been reported — is only a tiny fraction of New York state's overall schools budget. But according to Carl Korn, of the union representing New York state teachers, directing that money to the racing association instead of to schools has deprived teachers and students of much-needed resources.
"As this deal was being made, New York state was in the process of dramatically cutting education, leading to 30,000 job losses — roughly 22,000 in teachers," Korn says. "And what is most outrageous is the poorest districts were hit with a disproportionate amount of these cuts."
The unusual arrangement grew out of a moment of desperation for the racing association.
In 2008, NYRA was deep in Chapter 11 bankruptcy after weathering an investigation that found the organization had cheated the federal government out of taxes on millions of dollars in racing income. The state, which regulates the sport, had moved to give the horse racing franchise to another organization, but NYRA claimed it owned the tracks themselves.
According to lobbyists, legislators, and figures involved in the negotiations, NYRA threatened to wage an all-out, years-long legal battle, possibly even going so far as to shut down the three race courses it runs: the Triple Crown coronation track Belmont Park in Long Island, the scenic Saratoga Race Course just north of Albany, and the aging Aqueduct Racetrack in Queens.
"It was not unlike the United States and the Soviet Union during the Cold War: It was mutually assured destruction," said James Featherstonhaugh, an attorney and veteran lobbyist for the racing industry who was not directly involved in the negotiations. "There were people in the administration that thought we can win this lawsuit and there were people in NYRA who were certain they could win the lawsuit. But the one thing that was clear to both sides was that if it came down to a lawsuit, racing was likely to be destroyed."
"There were all kinds of threats," said Joe Bruno, the former Senate majority leader, whose district included the Saratoga Raceway, and who participated in the negotiations along with representatives of Gov. Eliot Spitzer. "People in office, including Spitzer, were trying to make the best judgments and keep some semblance of order and sanity in the process."
NYRA prevailed.
According to the state inspector general
, in February 2008, NYRA ceded its ownership claim of the three racetracks in exchange for a $105 million loan and a new 25-year franchise. Through those same negotiations, NYRA also won $200 million in loan forgiveness and that significant diversion of lottery funds otherwise destined for the education budget.
How the horse racing group won that deal is a tale of its extraordinary political and legal muscle, and the bizarre symbiosis between the state's lottery and thoroughbred racing.
A century ago, horse racing was one of New York's only legal forms of gambling. Other types of betting outpaced it over time, and New York itself created one of the most popular ways to gamble in 1967, when it became the second state to institute a lottery. To sell the constitutional amendment legalizing the lottery, the state mandated that all proceeds go to education.
For years, bodega scratch-offs and numbered tickets were the dominant ways New Yorkers bet on the lottery. But in the chaotic days after Sept. 11, when legislators feared state deficits would balloon, Albany legalized video lottery terminals, or VLTs, a kind of digital slot machine with bright screens, flashing lights, and singsong melodies to entice people to bet for lottery jackpots.
One of New York's legal peculiarities is that VLTs can operate only at the state's original gambling venues: horse tracks. Horse racing operators get a cut of the revenue.
"Many of the facilities lose money on their horse racing operations… but consider it simply a cost of doing business for having the VLT license and operating the gaming facility," said Gordon Medenica, then the lottery's director, in a
2012 letter to the State Comptroller's Office.
"In the past, one could characterize the facilities as horse racetracks with gaming machines, but now it is much more accurate to describe them as casinos (with a legally required track on the property)." Indeed, they are often known as "racinos."
Horse racing is a leisurely activity. It takes about 22 minutes to set up each race, according to Josh Cuttita, a seasonal administrator at Saratoga Raceway who grew up watching thoroughbreds at the track. Tractors need to flatten the dirt for the next phalanx of pounding hooves. Jockeys need to switch colors and catch a breath. Digital slot machines, by contrast, offer constant stimulation that has been
scientifically designed to keep players betting
.
Just as horse racing became dependent on VLTs, so too did the New York Lottery. Today, VLTs overshadow every other form of betting on the lottery, bringing in about $1 billion of the $3 billion in profit the lottery rakes in every year.
In the February 2008 deal, the legislature agreed to allow VLTs at Aqueduct, a momentous decision that established New York City's first ever casino. A 2010 state inspector general report on the casino procurement process noted that Aqueduct was "most likely the most lucrative revenue contract ever awarded in the history of the state." Indeed, the VLT hall eventually built at Aqueduct has become the
largest slot machine business
in the entire United States, with over $18 billion bet last year at 5,150 machines, more than the Las Vegas giants MGM Grand and Bellagio combined.
NYRA does not operate the casino, but legislators allowed the organization to keep 7% of the state's take from the VLTs, much more than any comparable operation's cut. (New York's eight other VLT casinos are allowed to keep a maximum of $2.5 million a year in capital funds, while NYRA has no cap and typically keeps around $32 million.) And since VLT profits otherwise go to education, NYRA's windfall is New York schoolchildren's loss.
Philip Foglia, chief of investigations at the New York State Office of the Inspector General, says the arrangement is legitimate. "There's nothing essentially illegal about it," he said. But while NYRA's unusually big cut did not violate the law, Foglia said, "it does get to the heart of: what is the lottery for?"
Subsequent events also called into question what the sweetheart deal itself was for. According to Richard Rifkin, one of Gov. Spitzer's lead negotiators, it was granted to keep NYRA afloat and ensure that the organization would be able to repay the state's $105 million loan. Amid the political chaos of Gov. Spitzer's scandal-driven resignation, New York agreed to a let the bankrupt NYRA keep the money. But it also kept the lottery carveout that was supposed to help the organization repay the loan. The carveout is in effect until at least 2033.
Soon after getting its bailout and emerging from bankruptcy, NYRA expanded its political contributions, according to
online disclosures
and analysis by
Bennett Liebman
, then an Albany Law School professor and NYRA board member who later became deputy secretary for gaming.
"In prior years, NYRA did not play the political game to any great extent," Liebman writes in his analysis, which shows that NYRA became the largest political donor among gaming interests by late 2009.
Between April 2008 and the next major election in November 2010,
its PAC
made over a quarter million in political donations, including $50,000 to Gov. David Paterson, Eliot Spitzer's successor, and roughly $200,000 to legislative candidates and political parties.
Asked for comment about NYRA's bankruptcy settlement, the two state entities that monitor video lottery terminals — the State Comptroller's Office and the Franchise Oversight Board — both replied: "The document speaks for itself."
On the last Saturday in August, when 12-to-1 long shot Keen Ice beat American Pharoah, the first Triple Crown winner in 37 years, sellout crowds filled the stands at the Saratoga Race Course — a bright moment for the New York Racing Association. But despite the attention the race attracted, the organization's troubles may not be behind it.
Just last month, the State Comptroller's Office completed an audit of NYRA, including how the organization used some of the money it received from video lottery terminals. According to Frank Patone, the comptroller's audit director, the probe, which has not been previously reported, looked at whether NYRA improperly used money earmarked for capital expenditures. Patone and other state officials would not comment on the findings of the report, which will be released in the coming weeks. NYRA's chief spokesperson, John Durso, Jr., said he could not address it, but noted that "in 2012, Governor Cuomo implemented a new reorganization board and a new management team began the process of turning NYRA around, running the racing association like a business, and focusing on our fans."
An analysis by BuzzFeed News of NYRA's publicly available
financial records
shows that it used more than $7 million of those capital funds to cover expenses in years that it lost money.
Kevin Townsend is a data reporter for BuzzFeed News and is based in New York. His secure GPG fingerprint is 78C8 FCFB D3F3 7296 0C8D 5666 3744 5357 1F70 1DC8
Contact Kevin Townsend at kevin.townsend@buzzfeed.com.
LeBrun: School receivership plan a boondoggle in the making
Fred LeBrun Published 7:50 pm, Saturday, September 12, 2015
LINK
While New York public education struggles to resolve an idiotic dependence on standardized tests, waiting in the wings is another poorly-thought-out plan threatening more harm than benefit: school receivership.
So far you haven't heard a great deal about it because the dramatic consequences are a year off, but you will. And, unlike the statewide disgust over
Gov. Andrew Cuomo's testing obsession
that affects every school district and has gotten a lot of press, the threat of receivership at the moment hangs over only 144 "struggling" schools — not districts — all of them among the state's poorest. Of these, 20 are labeled by the state
Education Department
as "persistently struggling" because of the length of time they've been "struggling" and need to turn themselves around in just a year, or else. The rest have two years.
In the Capital Region, only
Albany's William S. Hackett Middle School
is on the persistent list, but if a handful of schools in Albany, Troy, Schenectady and Amsterdam, including
Albany High School
, don't show appropriate progress, they will join Hackett next year.
What happens now for schools like Hackett is as complicated as directions to Atlantis, and about as reliable.
Albany school
Superintendent Marguerite Vanden Wyngaard
becomes the acting school receiver, with broad powers, for the next year. A required community engagement team composed of the principal, staff, teachers, parents and even students from Hackett will forward recommendations for improvements to the superintendent, who will use them to help create her intervention plan to turn the school around. The plan is due at State Ed for approval by the end of this month. Over the next year, the community team will look over her shoulder as the intervention plan unfolds.
In the meantime, the school receiver can do pretty much what she wants (with approval from State Ed): change the curriculum, replace teachers and administrators, increase salaries, reallocate the budget, expand the school day or year, turn Hackett into a community school, even convert to a charter school. Although there's enormous rigmarole attached to much of it, including going charter. Remember, the receiver in this case remains the superintendent for the rest of the district, so she is answerable for any wild and crazy ideas to the voters through the school board.
Anyway, to help start the process, Vanden Wyngaard can apply for a grant from a $75 million pot set up by the state, although she'll have plenty of competition from other "persistently struggling" school receivers in Syracuse, Rochester, Buffalo, Yonkers, New York City and elsewhere. She has a year to do her turnaround. Or the hammer falls and we are off to Neverland.
Then the state would appoint an independent receiver who is answerable only to State Ed. At which time the process of community involvement, an intervention plan, and the rest are repeated, only now change is apt to be far more radical, with wholesale staff firings. An independent receiver can be a person from an approved list that doesn't yet exist, or an institution or charter school. Although charter schools upstate have been mostly a bust, as Albany well knows. Middle school charters in Albany could not save themselves, let alone others.
So. If you're getting the idea that this receivership idea seems like a plan designed to fail and thus prepare the way for school privatizers to make a bundle, move over.
For one thing, the state has yet to give school receivers a clear idea of what would constitute appropriate progress to avoid an independent receiver. Presumably, we'll know by the end of the month when intervention plans have to be approved. What is expected and how reasonable it is will answer a great deal.
Because just a year to show any marked improvement on any front for a school like Hackett, no matter how thoughtfully considered, broadly accepted by the community, or earnestly pursued, is absurd. Real change needs time for all stakeholders to become invested. Teachers at Hackett today are still complaining that attendance and discipline as major problems, just as it was when I substituted there, oh, a half century ago. These are, after all, manifestations of the poverty and despair underlying most of Hackett's problems; they don't go away. They are the community's problems, not just Hackett's.
And for any turnaround plan to stand a chance of success, it will need tons of money and sustained financing for years. Curiously, while the law creating school receiverships is rich in the detail of who can be fired and not rehired, on punitive measures, and what extraordinary powers a receiver may exercise, it does not specify who will pay for an independent receiver.
Keeping in mind, always, that the state has an abysmal record in meeting its education commitments. At the moment, the state owes New York City more than $2 billion in aid; Albany more than $37 million; Schenectady nearly $60 million.
So there you have it. A boondoggle in the making. Cuomo forced us to accept a mandate of an independent receiver for certain schools labeled struggling by his cohorts at State Ed, but so far there isn't a hint of state money to pay for it. Can you imagine what that burden will do for school budgets like Albany's?
Oh, and it gets better. Amusingly, the concept of "struggling" public schools is defined by the educational establishment as the bottom 5 percent of all state schools based on a host of criteria. Which means no matter how much struggling schools improve, there will always be 5 percent at the bottom who potentially need a receiver.
What a surprise.
flebrun@timesunion.com • 518-454-5453