New York City' s City Council Slush Fund Allocations Cloud the Political Future of City Council President Christine Quinn and of Mayor Mike Bloomberg
There is a dirty little secret with the budget of City Council in New York City. Millions of dollars are hidden in a slush fund, earmarked for organizations that don't exist. City Council speaker Christine Quinn insists she is the whistle blower, even though it is her office that's hidden the money. Two finance officials have been dismissed in this matter. The city Department of Investigations and the U.S. Attorney's Office are investigating. Quinn says she is not the target, but that she tried to clean up the issue. Mayor Mike says he knew nothing about it. We at Parentadvocates.org say: what kind of fiscal management is this?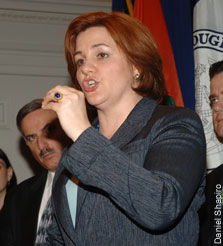 When residents of New York City wake up every morning, we are comforted by the fact that our
Mayor works
with our
City Council
to hide public funds from us so that pre-chosen organizations may get money outside of prying eyes....in other words, what we, the public may want is not of any importance.
Mike, Christine, what are you thinking??
-Betsy Combier
April 28, 2008
Dysfunction at a Charity That Relies on Council Largess
By RUSS BUETTNER and SERGE F. KOVALESKI
Hiram Monserrate, a city councilman from Queens, has supplied more than $400,000 in city funds in recent years to a nonprofit agency that has been run by some of his closest aides and whose financial records have devolved into what its current director calls "a mess."
The organization, Libre, which offers a wide array of programs and services for the Latino community, has not filed a tax return for the past two years. It has never registered as a charity with the state attorney general's office, as required. And its director says unpaid bills and poor record-keeping grew so problematic that he had to all but shutter Libre last year.
"Libre is a mess," said Rodolfo Herrera, the director. "I don't think it's a mess because they were stealing money. I think it's because they didn't know what to do with paper."
The millions of dollars that council members dole out to community groups each year rarely received attention until last month, when it was revealed that the Council had been using the names of fictitious groups to park money that it could later spend without going through the normal budget review process.
Now a spectrum of analysts, from auditors for the city comptroller to federal investigators to lawyers for the city's Department of Investigation, are scrutinizing just what kinds of programs City Council members are financing with the discretionary funds they control.
Libre, whose name stands for Latino Initiative for Better Resources and Empowerment Inc., has not been identified as the subject of any special review. But it resembles, in its close ties to Mr. Monserrate, other organizations that have drawn scrutiny.
Mr. Monserrate, a former city police officer, negotiated the lease for Libre's former office, according to the building's superintendent, and one of the group's former top executives says he was directly recruited for the job by the councilman. In recent years, its four principals included two women who worked as Mr. Monserrate's chief of staff and his director of constituent services.
P. Wayne Mahlke, Mr. Monserrate's legislative and budget director, said the councilman had no control of Libre and had believed that its finances and tax filings were "in full compliance."
"The council member knows Libre provided services to the community and has been a strong organization," Mr. Mahlke said. "Yes, they went through some difficulties, but that was all their own internal difficulties."
Libre has told city officials that it provides recreation and education programs, assistance to immigrants and job training for people in Queens. A more detailed picture of the organization's activities was unavailable because Mr. Herrera said he was not directly involved in program services and other staff members did not return calls.
Neighbors of Libre's former office in Corona, Queens, said that the office was seldom crowded and that staff members generally seemed to be involved in dispensing advice on how to reach government agencies.
Libre has also served as something of a clearinghouse for city funds. Mr. Monserrate's office said Libre dispensed a third of the money it received to other organizations that the councilman had deemed worthy of support, like the Corona Basketball League and the Colombian Parade Committee.
City Council officials said Friday that they knew the names of all the organizations that were the ultimate recipients of such "pass-through" appropriations. The Council speaker, Christine C. Quinn, and the city's Law Department made efforts last year to increase the monitoring of pass-through funds, which have been used for more than a decade.
But Council officials said they relied primarily on the city agencies that actually expend the money, under contract, to make any background checks on recipient groups. The checks can be cursory, however, as was made clear in an indictment last month.
The indictment accused two aides of Councilman Kendall Stewart of Brooklyn of embezzling $145,000 from a nonprofit group they ran. Prosecutors said in the indictment that officials at the city's Department for the Aging had initially denied Mr. Stewart's request to give money to the group, the Donna Reid Memorial Education Fund, after noticing that it was based at the home of his chief of staff. But a subsequent request was approved by the Department of Youth and Community Development.
Until November, Libre operated out of a two-story building on National Street in Corona, where neighbors said the organization sometimes held evening English classes but generally opened for only part of the day and rarely had more than three people working.
The building's superintendent, Ismail Gaiby, said the office grew more crowded when Libre sponsored voter registration drives, which he said were often attended by Mr. Monserrate.
"There were a lot of people coming in and out," said Mr. Gaiby, who also works at an Islamic book company and meat store on the block. "They would go out in the street and register the voters."
Mr. Gaiby said Mr. Monserrate, accompanied by another man, personally negotiated Libre's $1,100-a-month rent in April 2005 and delivered the security deposit, but Mr. Mahlke said the councilman "does not recall having any participation" in that process.
Libre was incorporated in July 2003, but it has filed only one tax return, which covered the fiscal year ending June 30, 2005. That return showed revenues of $49,750 and expenses of about $25,000, made up mostly of $19,200 in rent and utilities and $3,520 for printing.
The return said the group provided "street activities, including music and cultural enrichment for youth and adults," and "back-to-school equipment and activities for young adults." It listed Yoselin Genao, who was Mr. Monserrate's director of constituent services, as the contact for Libre.
The return listed Julissa Ferreras as chairwoman of Libre's board of directors, and indicated it was an unpaid position. City records indicate that during the time period covered by the tax return, Ms. Ferreras was also serving as Mr. Monserrate's chief of staff, a post she did not leave until August 2005. Ms. Ferreras returned to work as Mr. Monserrate's chief of staff last September.
In an interview on April 18, Mr. Monserrate gave an account that differed from what the records indicate. He said Ms. Ferreras had not held positions in his Council office and at Libre at the same time. He said that she took the position with the nonprofit only after ending her first stretch with the Council, and that he had required her to leave Libre last year when she returned to work for his office.
Ms. Ferreras, Ms. Genao and Mr. Herrera's computer services company have also been paid for work on Mr. Monserrate's political campaigns, records show.
The bookkeeping issues with Libre surfaced last fall, according to Mr. Herrera, who said Ms. Ferreras recognized that there was trouble with Libre's books. Javier Cardenas, who was executive director at the time, left shortly after, and Libre began to search for a new director. Mr. Cardenas could not be reached for comment, and Ms. Ferreras did not return calls.
Efforts to find a new leader for the organization last October put Mr. Monserrate in touch with Herman Mendoza, who now runs a community outreach program in Corona, Mr. Mendoza said.
"He offered me the position" of executive director, Mr. Mendoza said. "I was working for an insurance company, and he said, 'Hey, there's an offer if you want to work, since you do a lot of work with the community.' "
But Mr. Mendoza said he found that he was Libre's only staffer and left after three weeks.
"They couldn't pay me a salary, so I had to get another job quick," he said. "I guess there was no funding."
Mr. Herrera, who had been Libre's treasurer since its inception, said Ms. Ferreras asked him to take over as director in November. He immediately moved Libre into the small office in Jackson Heights where he runs two other firms, a Colombian radio station and a nonprofit organization, Latin Technologies, that offers technology training.
Latin Technologies has received $120,000 in city funds since 2004, most of it in discretionary awards from Mr. Monserrate.
In a telephone interview on Friday from Colombia, where he was visiting, Mr. Herrera said he planned to file Libre's delinquent tax returns by the end of May. He said Libre's only existing city contract called for it to distribute $32,000 of a $40,000 award to other community groups.
Mr. Herrera said he was unable to access Libre's records because he was out of the country. Though he was the treasurer during the years in question, he said he did not monitor the books, a job that he said fell to Mr. Cardenas.
"All we've been doing is paying bills from the past," Mr. Herrera said. "Libre doesn't have employees. We are just cleaning up Libre debt."
Reporting was contributed by Daryl Khan, Sharon Otterman, William K. Rashbaum and Ray Rivera.
Christine Quinn, President of New York City Council, hires a lawyer to represent her as accusations against her grow:
April 12, 2008
Inquiries Over Ghost Budget Items Prompt New York Leader to Hire Defense Lawyer
By RAY RIVERA and RUSS BUETTNER, NYTIMES
Christine C. Quinn
, the speaker of the New York City Council, has hired a criminal defense lawyer to represent her in federal and city investigations into Council spending practices, an aide said on Friday.
The move comes a week after disclosures that Ms. Quinn's office had appropriated millions of dollars to organizations that do not exist, instead routing the money to organizations favored by individual council members.
The lawyer retained by Ms. Quinn,
Lee S. Richards III
, a former federal prosecutor, will be paid with city funds, as will
Sullivan & Cromwell
, a firm that the Council has hired to assist in responding to the investigations.
Asked why the speaker felt she needed her own lawyer, Jamie McShane, a Quinn spokesman, said in an e-mail message that the lawyer would assist "the speaker in her cooperation" with inquiries by the city's Department of Investigation and the United States attorney's office.
Lawyers not involved with the matter said it was common for anyone approached in an investigation of this type, including witnesses, to hire a lawyer.
"When individuals are asked to speak to agents or to testify before a grand jury, they typically desire counsel who can guide them through the process and ensure their interests are protected," said Michael G. Considine, a former federal prosecutor who is now a partner with the firm of Day Pitney.
At a news conference on Friday called to announce proposed changes in the Council's budgeting procedures, Ms. Quinn did not mention Mr. Richards's hiring and emphasized that she was not a target of the inquiries.
She has said that the Council's use of fictitious organizations to hold money in reserve dated to 2001, five years before she became speaker, and that when she learned of the practice last year, she ordered that it be stopped.
Appropriating the money to fake organizations allowed council members to later tap the funds for projects without getting approval from the mayor.
Ms. Quinn called the news conference to unveil an overhaul that she said would impose new controls and oversight on how the Council spends its discretionary funds.
The changes would significantly limit the speaker's latitude over her own discretionary funds — which total $20 million to $25 million annually — by allocating grants through a competitive, merit-based process. The process would be overseen by the mayor's Office of Contracts, which would have final say over the allocations, with input from the speaker and the Council.
"They are a set of reforms I believe will give New Yorkers a full sense of
faith
in the idea that their taxpayer dollars are being distributed in an apolitical manner, a transparent manner and a manner which assures that their money is going to qualified organizations that are serving New Yorkers," Ms. Quinn said.
Under Ms. Quinn's changes, individual council members' items, known as
earmarks
, which last year totaled about $340,000 per member, would not be subject to competitive bidding. Ms. Quinn said that the earmarks are often doled out in relatively small amounts of $5,000 to $10,000 and that requiring competitive bidding for them would create too onerous a demand on the Little Leagues, churches and other community organizations that receive them.
Ms. Quinn said the council members' earmarks would, however, be subject to a more thorough review and certification process developed in consultation with the office of the New York State attorney general, Andrew M. Cuomo. A searchable database would also be created that could be reviewed by the public to easily identify how all member items are allocated.
An independent compliance officer would be hired to ensure that the Council adheres to procurement rules and follows proper accounting practices; Ms. Quinn said she would seek a change in the City Charter to make the position permanent. To ensure independence, the speaker would appoint the compliance officer to a four-year term that would overlap speakers' terms, and the officer could be removed only for cause.
Many of the groups that criticized Ms. Quinn last week praised her proposed changes, some of which will require approval from the full Council.
"Out of the public disclosure of this years-old inappropriate practice has come a good thing," said Dick Dadey, executive director of Citizens Union, a government watchdog group.
The changes, he said, "will bring an even greater level of transparency to the Council's review, discussion and enactment of the city budget, particularly as it relates to the often unknown process by which member items have been rewarded over the years."
The competitive process, however, would also not apply to Council initiatives, a much larger pot of money given out primarily at the speaker's discretion that goes to programs that reflect the Council's broader priorities.
The amount budgeted for those initiatives was $300 million last year, with the largest portion, $42 million, used to expand library service across the city to six days a week.
But some of the money was distributed very much like earmarks were, eventually ending up with nonprofit groups chosen by council members for programs like anti-gang and immigrant assistance initiatives.
For instance, the Council allocated $4 million last year for a domestic violence initiative. The speaker then distributed shares of that money to council members, in amounts ranging from $10,000 to $175,000, to give to organizations in their districts that deal with domestic violence.
Mr. Richards, the lawyer hired by the speaker, is a founding member of the firm of Richards Kibbe & Orbe.
QUINN-WIN $ITUATION-24% OF MYSTERY FUND WENT TO HER DISTRICT
By MELISSA KLEIN and ANGELA MONTEFINISE, NYPOST
LINK
April 6, 2008 -- Nearly a quarter of the City Council's secret slush fund went to organizations in
Speaker Christine Quinn
's district, records show.
Eleven groups in the Democratic lawmaker's Manhattan district - encompassing Greenwich Village, Chelsea and parts of Midtown - soaked up a combined $866,500 from the mysterious fund in fiscal year 2007. That was 24 percent of the pot's $3.6 million total.
One of the recipients in her district - Friends of the High Line, which has received $32.5 million in up-front council capital funding - got $290,000 from the secret stash, more than any other organization in the city.
The American Folk Art Museum on West 53rd Street garnered $150,000. The Callen-Lorde Community Health Center grabbed $125,000.
The only other lawmaker whose district received as many earmarks was Councilman Charles Barron (D-Brooklyn), but the funding for those 11 organizations totaled only $51,100.
No other district came close.
"The vast majority of these groups are not local groups but citywide organizations that happen to be headquartered in Chris Quinn's district. These are organizations and cultural institutions that serve a citywide constituency," said Quinn spokesman Jamie McShane.
Last week, The Post revealed the financial shell game played by the Speaker's Office, in which millions in taxpayer money was stashed away in the name of phony organizations so it could be parceled out later in the budget year to legitimate charities and community groups favored by legislators.
The phantom groups receiving hundreds of thousands of dollars included the "Coalition Of Informed Individuals," "Moving Up, Building Bridges" and "Firewood Senior Services."
In the spring of 2007, Quinn said, she ordered staffers to stop the practice of reserving funds in the budget for future use. The 2008 budget was passed in June, and Quinn said she learned "several months ago" that her decision to end the practice of holding funds had been ignored. That's when she also discovered the use of phantom organizations to hide those monies, she said.
The cooked books are now under investigation by the city Department of Investigation and the US Attorney's Office. Quinn said the fund was actually used since at least 2001 to correct errors and omissions in the budget.
Friends of the High Line, for example, was supposed to get money during the budget process and didn't, so Quinn said she corrected the "clerical error" by dipping into the fund.
But a source said the fund was used to thank or pay off political allies.
Records show that while some allocations were requested specifically by a council member, most were listed under the council as a whole, making it difficult to determine who asked for the money.
"These are legitimate organizations, but the question is, why did they get more money that wasn't vetted in the budget process?" said Queens Councilman Tony Avella, a vocal Quinn critic. "There's only one reason, and it's political. To be able to move the money without anyone seeing where it's going."
Two of the biggest slush-fund recipients have contributed to Quinn's expected 2009 mayoral run.
Eight members of Friends of the High Line board contributed a total of $18,775, according to city campaign finance records.
Three members of the board of the Tribeca Film Institute - which is not in Quinn's district but received $235,000 from the slush fund - also contributed $14,850 to Quinn's campaign.
melissa.klein@nypost.com
MIKE: HOW SLUSH CASH SLIPPED BY
By FRANKIE EDOZIEN and DAN MANGAN, NY POST, frankie.edozien@nypost.com
LINK
April 7, 2008 -- Mayor Bloomberg said yesterday that his budgetary watchdogs did not catch wind of a secret City Council fund because no money was ever actually paid to the phony entities set up as part of the scam.
"We vet every organization before we send out checks. In these cases, checks were never sent out," Bloomberg said, explaining why the Office of Management and Budget failed to spot a longstanding practice exposed by The Post last week.
Noting that the list of projects or organizations "that receives money is negotiated by the City Council," the mayor spoke for the first time about why his office was in the dark about the slush fund - the existence of which imperils Council Speaker Christine Quinn's mayoral aspirations.
But left unanswered was why, in six years in City Hall, Bloomberg's watchdogs never questioned why some groups were repeatedly allocated funds that went undelivered.
Quinn admitted last week that she learned last year that some of her staff had stashed away millions of budget dollars to fund certain projects without public processing.
In 2007, 24 percent of $3.7 million in such set-aside slush funds went to organizations in Quinn's Manhattan district.
She said she ordered the practice stopped, only to learn in recent months that not only had it continued but that phantom groups had been created as a way to hide the money.
Two Quinn staffers resigned in the wake of her discovery of the phantom organizations, which are now being probed by the city Department of Investigation and the US Attorney's Office.
David Weprin, chairman of the council's Finance Committee, said he didn't know about the practice until last week and suggested that it sailed under the radar for years because the amount of money involved was such a minute part of the $59 billion annual budget.
"There were a lot of people involved in the process that didn't know, including the mayor," the Queens Democrat said. "This is not a situation where money was stolen."
frankie.edozien@nypost.com
Bogus Groups in the City Budget
by Courtney Gross, Gotham Gazette, 07 Apr 2008
LINK
The week that City Council Speaker Christine Quinn released her third budget response she also admitted that previous budgets, going back to at least 2001, were riddled with allocations to fictitious organizations .
After the charges appeared, Quinn responded that she did not budget the money herself. She blamed the problem on her staff and said she was taking immediate steps to remedy the situation. Her staff chimed in that ultimately the funding always ended up supporting worthwhile causes -- groups like the
American Performing Arts Collaborative
or the City University of New York's project
Bridge to Medicine.
Though the speaker's office has attempted to stay ahead of the story since it broke Thursday, there remains many more questions than answers. Among them are whether this was simply a way to give city officials some leeway over a small percentage of the multi-billion dollar budget, or whether it was a cover up for political favors and arm-twisting by a speaker who has made government reform a hallmark of her tenure.
Many have wondered how a practice of putting aside funds for unanticipated expenses turned into accounts labeled with nonexistent organizations. And some question how a speaker who is known to micromanage her staff could have let this "slip" by her.
This is not likely to fade away from the city's newspapers and channels anytime soon since two investigations -- one by the city's Department of Investigation another by the U.S. Attorney's office in Manhattan -- are underway and more are being called for.
A Translucent Agenda
The irony here is at least an inch thick.
A reform-minded speaker, whose agenda called for opening up the budget process and creating more transparency in the City Council, has been thrust into a scandal over that very same budget process and its secret fund.
City hall observers and council members, even Quinn's opponents, such as Councilmember Charles Barron, were shocked by the budgetary revelation first reported in the New York Post on Thursday.
"I guess we just assumed that the speaker had some money, had some discretion, to dole around," said Barron. "I don't think any of us had a clue."
Since she became speaker in January 2006, Quinn has attempted to open up the budget process. She required attaching council members' names to their individual member items, allowing the public to see which member was pushing for what in the council's expense budget. In her budget address on Tuesday, Quinn promised to create the same transparency with the council's capital budget -- attaching names to particular items.
Quinn denies that she personally created the phony organizations and directed funding toward them for political favors. The council's press office, however, has had no explanation as to when these groups were formed and who formed them.
They say since Quinn found out about the practice, now two senior Council Finance Department staffers have left the council. They also contend this practice has a long history in city government, going back to at least the beginning of the decade.
A Matter of Precedent
Officials contend it is not unusual to hoard money in the city budget for unexpected expenses or mid-year fixes. In a nearly $60 billion budget, items cannot always be exact.
The city calls the unallocated accounts "holding codes" -- or ambiguous line items to be doled out to certain projects after budget approval or as needed throughout the fiscal year.
Even in the fiscal year 2009 budget, the Department of Education, according to the council's budget response, has $1.12 billion in holding codes. The city's Law Department could not immediately say whether this practice violated the City Charter.
Former Speaker Peter Vallone Sr., who led the council from 1986 to 2001, said during his tenure the body would hold money under certain agency's holding codes then modify the budget and distribute the money at a later date. They would do this transparently, he said, holding public hearings.
"I don't know why you would need a fake organization," said Vallone. Ultimately, though, he said, "The point is where was the money used?"
In the spring of 2007, the speaker's office contends, Quinn ordered her staff to halt the "holding code" practice. Several months later, she found out it had not stopped and instead was continuing through phantom organizations.
The council could not provide by our deadline the holding codes that were used before the speaker ordered them to halt the process.
Following the Paper Trail
The city's budget process is long and intricate. Nonprofits have to fill out mounds of paperwork, and the City Council is charged with meticulously reviewing it.
But that seems not to have been done here.
City Council officials could not say whether documents for these fictitious organizations existed, and our request for copies is pending.
The council has distributed documents showing where the $4.7 million initially earmarked to the fake groups ended up in fiscal year 2007 and fiscal year 2008. The largest allocation went to Friends of the Highline, a group converting an elevated rail track to a park in Quinn's district. Other groups that received funding resemble the council's usual budget line items, from little leagues to arts alliances.
A review of the allocations reveals that $3.74 million, or nearly 80 percent, is not attributed to a specific council member. Those projects, 66 in total, do not have a main sponsor, which is in direct contrast to Quinn's requirement that council members' names be listed with such items.
In the documents, 14 members are identified as receiving funds originally destined for the phantom accounts, including Finance Chair David Weprin, who did not return phone calls.
Some would say the lack of attribution raises concern about the intent of the funding. "Often times council members vote a certain way because they are promised certain things for their district," said Barron.
Some City Hall observers said the phantom groups could act as untapped accounts, which the speaker could dole out to reward members at her discretion.
Council members said some of the appropriations seem to be budget fixes. Barron has more than $50,000 in 12 items for fiscal year 2007, all of which were funded through cash initially earmarked in fake organizations. Barron said, and many would agree, there was no way he was getting political favors from the speaker.
"If they use any money for me and Tony (Avella), it was a mistake they were trying to correct," Barron said.
A New Budget Year
The City Council is about to embark on this fiscal year's budget negotiations. The mayor's executive budget is due out at the end of the month, and from there wheeling and dealing will begin. Quinn is slated to play a key role in the discussions over how to spend city money as the days of rising revenues and fat surpluses appear to be coming to an end.
Some question, however, whether Quinn can move on politically from this scandal and whether her mayoral hopes have now been dashed.
A statement from the Citizen Budgets Commission, a fiscal watchdog, reads: "All elected officials bear responsibility for the budgets that they adopt, and Speaker Quinn, in particular, should be held accountable for the City Council's fiscal practices. She must now rebuild the public's confidence in the truthfulness of the Council's budget and its future integrity."
Others have called for investigations into the matter, including councilmember and mayoral candidate Tony Avella. Citizens Union, the sister organization of Gotham Gazette's publisher, has called for the speaker to release any and all information relevant to the scandal and is urging greater oversight of council member items to ensure their legitimacy.
Gotham Gazette is brought to you by Citizens Union Foundation. It is made possible by a grants from the Alfred P. Sloan Foundation, the Altman Foundation, the Fund for the City of New York, the John S. and James L. Knight Foundation, New York Times Foundation, the Charles H. Revson Foundation, the Robert Sterling Clark Foundation, the Rockefeller Brothers Fund and readers like you.
Council speaker is on hot seat
Quinn says she 'had no knowledge' of quirky budgeting practice
By SALLY GOLDENBERG, Staten Island ADVANCE CITY HALL BUREAU
April 4, 2008
LINK
STATEN ISLAND ADVANCE -- City Council Speaker Christine Quinn yesterday defended her office amid revelations of a little-known practice of channeling city taxpayer dollars to nonexistent organizations to fund unanticipated midyear expenses.
The process came under scrutiny by city and federal investigators late last year, and yesterday became the latest lightning rod in a season of political scandals.
The New York Post broke the story yesterday, accusing Ms. Quinn of "allocating grants to phantom organizations as a way of holding the funds to dole out political favors later."
Ms. Quinn, who has made budget transparency a cornerstone of her administration, told reporters at a news conference that she learned of a system of allocating money to "fictitious community-based organizations" several months ago. She said she immediately asked the U.S. attorney and the city Department of Investigation to examine the practice. Both agencies declined comment.
"I was obviously deeply troubled when I found out about this information. I had no knowledge of it," said Ms. Quinn, who is expected to run for mayor next year.
"It's something that I believe is completely inappropriate and should not have gone on and no longer will go on,"
PRACTICE DATES TO '01
She said her lawyers discovered the practice, which dates to 2001 under the leadership of two previous speakers, during an "unrelated investigation" a few months ago and informed her. She would not say whether anyone was fired, but she confirmed that "the two highest-ranking members of our Finance Division no longer work for the City Council."
She declined to name them but they have been identified by many sources as Mike Keogh and Stacey Emanuel. Keogh works for the lobbying firm Bolton-St. Johns LLC.
Over the past two fiscal years, a total of $4.7 million was assigned to these fictitious groups, which have names like "Stand New York," "Moving Up, Building Bridges" and "Coalition of Informed Individuals."
The money then was dished out for needs that arose throughout the year, such as a $200,000 grant to the Staten Island Zoo in fiscal year 2007, according to documents provided by her office in an attempt to show that while the process may seem dishonest, the money landed in legitimate accounts.
Island Councilman Michael McMahon (D-North Shore) said he assumed the midyear zoo funding came from a pot of unallocated funds.
HELPED THE ZOO
"We know her to be an honest person, and as far as I know the only money I know that came out of that fund was to help the Zoo," McMahon said.
Ms. Quinn said that prior to learning of the phantom groups receiving funds, she told her staff last spring to discontinue a separate but similar 20-year-old practice of putting aside money to fund programs throughout the year. She acknowledged they did not heed her orders.
That system did not involve fictitious organizations but rather bloating a city agency's budget intentionally so the funds could be reallocated throughout the year. The city, by law, must have a balanced budget and does not have a miscellaneous fund for unexpected needs, according to a former budget official who spoke to the Advance on the condition of anonymity.
"Putting a budget together is not always the cleanest process," the source said.
"These were relatively small numbers in the grand scheme of things to cover unanticipated needs, so it was really just a budget management tool from a Council perspective so things could be addressed and corrected quicker -- some would say more efficiently," the source continued.
The funds were put into "holding codes," or under lines with vague names listed under city agencies, primarily the Department for the Aging, the Department of Cultural Affairs and the Department for Youth and Community Development. They would then be allocated to individual Council members, the source said.
RECENT JUMP
The list of fictitious organizations grew from five in fiscal year 2002 to 18 in fiscal year 2007. Ms. Quinn became speaker in January 2006.
"That's when the practice has gone beyond a management tool to clean up mistakes," the source said, noting the jump.
A current City Hall official who also asked not to be named said the mayor's Office of Management and Budget sets aside funds each year for programs or initiatives that are legitimate but whose details are not yet completed.
Mayor Michael Bloomberg said he knew nothing of the practice and yesterday described the speaker as "the most honest person I know."
City Comptroller William Thompson, who is expected to challenge Ms. Quinn in a mayoral race next year, said the allegations in the Post "raise serious concerns. If there were any attempts to subvert the New York City Charter or to hide money in non-existent organizations, these actions would represent a breach of public trust."
Council Republicans James Oddo and Vincent Ignizio, frequent critics of wasteful government spending, rushed to Ms. Quinn's defense.
Oddo, the Council Republican minority leader who is close to Ms. Quinn, said he believes her account and that she is being slammed for a practice that predates her.
'HIGH INTEGRITY'
"I know this woman for nearly two decades and I had a personal, private conversation yesterday with her and when she tells me she didn't know and when she lays out the facts that she laid out to me, I believe them," he said. "She is a person of high integrity."
Oddo (R-Mid-Island/Brooklyn) said he has asked for midyear funds in the past, such as $250,000 this year for a construction renovation to a school in his district and said he received the money but will get that much less in the upcoming budget, which takes effect July 1.
And Ignizio (R-South Shore) said it appears Ms. Quinn "took aggressive action to correct this. This wasn't something that was dug up or whatnot. ... I'm willing to give her the benefit of the doubt and see what comes of her internal investigation."
Though she trumpeted her actions, Ms. Quinn took heat during the news conference for failing to go public with the information when she learned of it. She defended that decision by saying she had considered informing the public but believed it "was probably best to give the information to them (investigative agencies) and let them take the first steps in dealing with that information."
Former City Council Speaker Peter Vallone Sr., whose tenure ended in 2001, acknowledged the practice of "holding codes" took place during his term but said he knew nothing of "phantom organizations."
"The real question is where did the money go?" Vallone said. "I can't imagine there being any wrongdoing. She's been a very credible speaker."
Sally Goldenberg covers City Hall for the Advance. She may be reached at goldenberg@siadvance.com
.
FAUX FUND PROBE
By FRANKIE EDOZIEN, NY POST
April 10, 2008 -- City Comptroller Bill Thompson yesterday accused the City Council of hoodwinking the public by creating phantom organizations and announced that he will review every nonprofit contract awarded by legislators from now on.
Thompson's action - in a letter to Council Speaker Christine Quinn - comes a week after The Post detailed how her office hid millions of taxpayer dollars by allocating them to made-up groups as a way of holding on to funds for use later in the year after the budget had been passed.
Sources said the money, amounting to more than $17 million during the past six years, was doled out as political favors to groups affiliated with lawmakers who had been loyal to the speaker's agenda. But Quinn (D-Manhattan) insisted it was used to correct mistakes in the budget, funding groups that fell through the cracks.
"It remains clear, however, that the council's process was conceived and used to deflect legitimate inquiry into how our tax dollars are being allocated," Thompson wrote.
Thompson, a possible mayoral contender against Quinn next year, also wants to have the firm of Deloitte & Touche audit council spending and asked Quinn to specifically detail all "discretionary" expenses, which have never been disclosed in full. The comptroller's salvo "could be perceived to be the opening shot of the 2009 mayoral race," said Doug Muzzio, a political science professor at Baruch College.
Thompson denied politics was at play.
"I'm taking the action because I'm the comptroller," he said, adding that he still has faith "in the integrity of the speaker."
But, he added, "the public's confidence in the budget process has been shaken, and we need to make sure that every dollar can be traced and accounted for."
Quinn said she hadn't seen his letter, but had discussed with Thompson the possibility of outside auditors.
"We began conversations with the comptroller's office earlier this week about the idea of the City Council retaining outside experts who could help not just review this practice but look at all of the practices in the budget," Quinn said.
"So we could really develop the best practices possible so obviously we welcome any and all assistance."
Meanwhile, former Council Speaker Gifford Miller - under whom the practice of allocating funds to bogus groups began, according to Quinn - declined to explain what he knew.
With additional reporting by Tim Perone
BLOOMY: I WAS FAKED OUT
By FRANKIE EDOZIEN , NY POST
April 4, 2008 --Mayor Bloomberg said yesterday that he had no idea the city budget allocated millions of dollars to phantom organizations at the request of Council Speaker Christine Quinn's office - and that he would never have signed off on the spending plan had he known.
"This is the first I've heard of it . . . There's an investigation, and until I see the results of the investigation, I really can't comment," Bloomberg said yesterday when asked about The Post's front-page report.
When pressed about the revelations funds for dozens of sham groups - including the "Immigration Improvement Project of New York" and the "Association of Community Partners" - were slipped into the budget, Bloomberg said:
"If I found there were fake organizations in there, do you really think that I would sign the budget? Thank you very much. I would hope you'd expect a little more from me, for goodness sake."
The mayor didn't attack Quinn for the practice, calling her "the most honest person I know."
The Post yesterday detailed how Quinn's office hid millions in taxpayer dollars by allocating them to nonexistent organizations as a way of holding on to funds to dole out later in the year after the budget had been passed.
Sources said those monies were eventually awarded to legitimate groups as political favors to council members, but Quinn, who intends to run for mayor next year, insisted the funds were used to correct mistakes and oversights.
City Comptroller Bill Thompson, also a potential mayoral candidate next year, said that the report raised "serious concerns" and that such actions "would represent a breach of public trust."
The shady bookkeeping is now the subject of probes by the city Department of Investigation and the US Attorney's Office.
"We can confirm that the listing under fictitious organizations has gone back to 2001," Quinn told reporters yesterday.
Late yesterday, Quinn released records that show the practice started with five fake groups totaling $1.1 million.
By fiscal year 2007, it had ballooned to 18 groups and amounted to about $3.6 million.
Quinn and her aides have said that the money was eventually awarded to dozens of legitimate groups across the city and that there were no allegations that those organizations did anything improper.
Quinn said that she ordered her staff several months ago to halt the practice of listing sham groups in the budget but that her aides disobeyed her and continued it.
Quinn's predecessor as speaker, Gifford Miller, under whose watch the practice expanded, didn't return calls for comment.
But the prior speaker, Peter Vallone of Queens, whose last budget in 2001 included funding for several nonexistent groups, said he knew nothing about it.
"To use a false name? That never went on when I was there . . . It's a complete surprise to me," Vallone told The Post.
Quinn's potential mayoral rival, Tony Avella (D-Queens), blasted the speaker.
"It is absolutely disgraceful that we're using phony organizations to set aside money that could be later used down the road for political bribery," he said.
Councilman Charles Barron (D-Brooklyn), a frequent Quinn nemesis, said: "I find it hard to believe that it was just staff. It is illogical to think she didn't know about this because she has to use the money."
But Councilman Simcha Felder (D-Brooklyn) said he didn't have much of a problem with Quinn's aides reserving funds for unforeseen expenses.
"In this case, the only thing that's terribly wrong is the bogus organizations. That's all," Felder said.
Felder added that there has to be "a reserve fund when things come up that were not anticipated to be able to help organizations that are in desperate need of money just because somebody made a clerical error."
Betsy Lyman of the Citizens Budget Commission said the allocations to phantom groups "flies in the face of good government," especially since Quinn has made an issue of making the budget more transparent to the everyday New Yorker.
Dick Dadey, of the Citizens Union, an organization that has long lauded Quinn's reform proposals, agreed, saying, "This problem is inconsistent with her efforts as budget reformer."
Meanwhile, Quinn said she was "not the target" of the investigations and insisted she blew the whistle by telling investigators as soon as she discovered it.
"I stand by the fact that there has never been a council speaker who has been as committed to transparency and clarity in the city budget as I have been," she said.
Quinn said she was shocked that her instructions were ignored.
"The vast majority of the people who work for me are dedicated public servants who implement the wishes of myself and my colleagues . . . so obviously it's the last thing I would expect that a direct and clear instruction would not be followed."
Additional reporting by David Seifman
EDITORIAL: Quinn's Phantom Funds