How The New York City "Gotcha Squad" Gets Tenured Teachers Declared "Incompetent", and Placed in a Rubber Room by Betsy Combier
The Administrative Trials Unit (ATU) has hired a team of lawyers who work in a new ATU subgroup called "Teacher Performance Unit". Randi Weingarten, President of the United Federation of Teachers and American Federation of Teachers, calls them the "Gotcha Squad". The use of TAC (Technical Assistance Conference) memos in the preparation of charges to prefer against allegedly incompetent teachers is an outrageous process that I hope, with this exposure, will end.
In New York City, tenured teachers are being removed from their classrooms and positions by Principals and administrators suddenly and, in many cases, without probable and/or just cause. I edit a blog on this subject:
NYC Rubber Room Reporter.
In fact, the entire structure of the New York City Department/Board of Education is
intertwined with the General Counsel and the lawyers working in the Office of Legal Services
. It's hard to separate the two, and this is one of the biggest problems with Mayoral control as it now stands in New York City. The New York City Board of Education ("NYC BOE") keeps all documents and information secret under the description "
Attorney Client Privilege
".
However, the BOE gladly gives journalists all the information he or she wants, to "prove" by a preponderance of the evidence that a teacher is guilty of something.
Steve Brill
's
article in the New Yorker magazine
is a great example of this. The real Bible for Principals is the
Performance Management
document
A teacher may be accused of "verbal abuse" or "corporal punishment" in the same way as being charged with "incompetence" - see the
story of Glenn Storman
, his
complaint in federal court
, and the
decision in New York State Supreme Court
where
Judge Kornreich
said the OSI investigation and the New York City BOE were "irrational". But this did not stop the NYC BOE, PS 212 Principal Josephine Marsella, OSI investigator
Dennis Boyles
, and Deputy Chancellors Andres Alonso and Marcia Lyles, both of whom have left New York City. We might ask Joel Klein if Alonso and Lyles were forced out because of this case. Read the
Report and Recommendation filed by Magistrate Judge Andrew Peck
and you will get a very good summary of the "Gotcha Squad" at work.
Mr. Storman has filed
objections to Magistrate Peck's Recommendations
.
The Gotcha Squad is empowered by the absolute immunity given to NYC BOE managers, administrators, and lawyers, who are defended in court by the Corporation Counsel, the Law Department of the City of New York...nice free legal help. Additionally, the arbitrators and NYC BOE Attorneys in the 3020-a proceedings ignore the "
Labor FAQs
" of the collective bargaining agreement policies established between the NYC BOE and the UFT, all the time. I know, because I have attended the open and public 3020-a hearings of tenured teachers since 2003. Also, the Gotcha Squad fires Arbitrators who do not follow their "advice", as the letter from Theresa Europe to Doug Bantle shows. Doug, an Arbitrator of the highest integrity and fairness, did not want to start a third 3020-a trial against a Respondent,
so he refused. He was fired
.
The entire process is fueled, edited, created, guided, and managed, by the lawyers at the Office of General Counsel, or the group that I call "The Gotcha Squad". A peek into this highly secret world wherein a person is framed and set up to be terminated can be seen in the documents of a teacher in Staten Island, found in his file. He has given me permission to use these documents as they are so explosive, and show the fraud that is known as charging teachers in NYC. A principal, here
James McKeon, supposedly finds "Probable Cause
" when indeed it is not his finding at all, but that of the attorneys at 51 Chambers Street,
the Gotcha Squad
. The end result of
the secret exchanges can be seen by clicking this sentence
. 79 pages of emails between Florrie Chapin, Terrie Europe, Elizabeth "Betsy" Arons, and others.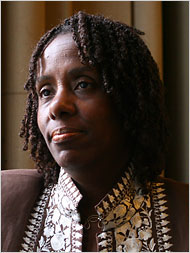 Former Deputy Chancellor Marcia Lyles
I believe that the reason for Joel Klein's lack of contract as Chancellor (See my article "
The Who Are You Kidding?? Award Goes To: Joel Klein, New York City Board of Education Pretender
") is to pursue secrecy within the NYC BOE by establishing him as the Attorney for the NYC BOE, not the Chancellor. Thus he has the ability to refrain from handing over documents if he deems these papers "Attorney Client Work Product". Federal laws take second place to secrecy, I guess. Also, the Corporation Counsel prevents any Plaintiffs from deposing Joel Klein if he is sued officially and individually on the grounds that he is the Attorney for the Board of Education.
It is obvious that the Mayor has total control over every part of the public school governance structure. A tenured teacher has no rights at all, and can be removed as easily as a non-tenured teacher or any employee. The tenured teachers have holding pens called temporary re-assignment centers or "
rubber rooms
". There are currently 7 such places located throughout New York City. A teacher may end up re-assigned because a principal may decide that he/she doesnt like him/her, must remove a him/her because he/she is talking about crimes being committed in the school, or must remove a him/her because he/she is earning a salary that is very high due to more than 20 years in the system, etc. The real reason may be that the teacher is too old, too fat, too short, wears red, doesn't wear red, and other such nonsense.
Then, after the Gotcha Squad at 52 Chambers Street in Manhattan have been informed that a teacher, let's say you, are the subject of an investigation, former Director Theresa Europe may place you on her "Ineligible/inquiry List". This list is keyed into the computer under your social security and file number, and will prevent any prospective employer from hiring you any time in the future. Theresa Europe gets the last word. In the case of Petitioner PB, she wanted Ms. Theresa Europe to take her off of the "no hire" list, and had to sue to get her name removed. Ms. Europe removed her name from the Ineligible List rather than have to submit to New York State Supreme Court Judge Alice Schlesinger why and how she keeps such a list, and the method she uses to remove names,
as Schlesinger ordered.
. Theresa Europe wants to remain in control of this career-ending list.
We all must defend our
right to know
who is saying what to whom. In New York City today, however, I believe that the
NYC BOE's secret disciplinary process is unfair
and I have posted this story to hopefully find another, more just way to deal with alleged "incompetent" teachers, whatever that term means. (See "
Strategic Management of Human Capital
")
When I started examining the procedures used by the newly instituted Department of Education, I saw that my knowledge of education law and arbitration, which I got by reading my own books (I am not an attorney) did not give me any clue as to the random and arbitrary nature of the 3020-a hearings I was asked to attend in NYC. So, I studied the lawyers and the arbitrators to try to find out how the law could be ignored.
Over time (8 years donated to doing research on this, 2003-2011) teachers and other employees who are charged with 3020-a started calling me to ask what the heck is going on. I tell them my opinion. I am now hired to work as a paralegal on administrative hearings.
Tenured teachers brought to 3020-a need to submit a motion to dismiss the disciplinary action because of procedural violations of law which impair their tenure rights to due process as cited in Education Law 3020-a. No Respondent ever waived his/her rights to a hearing on §3020-a charges, which must be presented to the Panel For Educational Policy (PEP) for a vote in Executive Session in compliance with Education Law 3020-a (2)(a).
Yet in the papers served on Respondent, the date of the Executive Session is missing and there is no information on a vote by the employing board on probable cause. An Executive Session is mandated by law and cannot be omitted by fiat of the Chancellor, or by any other law, rule or agreement. There was no Executive Session and the Complainant, the NYC Department of Education, did not comply with Education Law 3020-a.
Therefore, the Arbitrator has no subject matter jurisdiction to proceed with tany case and should immediately withdraw all charges. Alternatively, the Arbitrator should adjourn the hearing of this case until there has been a vote in an Executive Session by the school board and a proper determination of probable cause.
Tenured teachers have a property and liberty right to their jobs, and therefore when there is any penalty that reduces the benefits of these rights, there must be Just Cause.
Judge Desmond Green in the Richmond County Supreme Court ruled in the case of Rosalie Cardinale that:
"New York State created the public school tenure system guaranteeing continued employment to tenured teachers by statute and therefore created a property right in a tenured teacher's continued employment. (See Education Law§§§ 3012, 3012- a, 3020, Holt v. Board of Educ. Of Webutuck Cent. School Dist., 52 NY2d 625 [1981], Matter of Abromvich v. Board of Educ. of Cent. School Dist. No. I of Towns of Brookhaven & Smithtown, 46 NY2d 450 [1979]). Where a property right in continued employment exists, such as New York's tenure system, the recipient of such a right may not be deprived without due process. See Cleveland Bd. of Educ. v. Loudermill, 470 U.S. 532, 538 (1985).
New York State guarantees a tenured teacher's due process rights to continued employment by statute requiring that "no (tenured teacher) ... shall be disciplined or removed during a term of employment except for just cause and in accordance with the procedures specified in section three thousand twenty-a of this article or in accordance with alternate disciplinary procedures contained in a collective bargaining agreement ... " Education Law § 3020.
The statutory procedural process afforded to teachers with tenure under Education Law §3020-a requires:
The filing of charges "in writing and filed with the clerk or secretary for the school district or employing board during the period between the actual opening and closing of the school year for which the employed is normally required to serve. Education Law§ 3020-a(l)
"Within five days after receipt of charges, the employing board, in executive session, shall determine, by a vote of a majority of all the members of such board, whether probable cause exists to bring a disciplinary proceeding against the employee pursuant to this section." Education Law § 3020-a(2).
Where an employing board determines probable cause exists for discipline the tenured teacher shall receive: "a written statement specifying (i) the charges in detail, (ii) the maximum penalty which will be imposed by the board if the employee does not request a hearing or that will be sought by the board if the employee is found guilty of the charges after a hearing and (iii) the employee's rights under this section, shall be immediately forwarded to the accused employee " Id.
Green summarized his conclusion that there was a procedural error of law:
"Hearing Officer Lendino conducted the Education Law § 3020-a hearing based on unproven assumptions that the delegations of duties and responsibilities from the office of the Chancellor to subordinate administrators occurred in compliance with the relevant statutory authority."
It is clear that a decision of an Arbitrator who proceeds without getting a signed waiver of a Respondent shows bias against the Respondent and an excess of authority that is not sanctioned by any statutory authority.
The requirements of NYS Education Law §3020-a, under which tenured personnel may be disciplined for "just cause" are absolute and require that before charges can be brought against a tenured educator, the school board [PEP] must:
a. Determine that there is "probable cause" for the proceeding with charges by a majority vote by the Board.
b. Make this determination within 5 days of the charges being filed with the Board.
c. Ensure that the decision to proceed with the charges is not frivolous, arbitrary, capricious or discriminatory.
The Administrative Trials Unit (ATU)
has hired a team of lawyers who work in a new ATU subgroup called "Teacher Performance Unit". See the in-house newsletter "
On The Legal Side
" - 2000 - and on p. 4 you will see a picture of the current Director, Theresa Europe. Randi Weingarten, President of the United Federation of Teachers and American Federation of Teachers, calls them the "
Teacher Gotcha Squad
". The use of TAC (Technical Assistance Conference) memos in the preparation of charges to prefer against allegedly incompetent teachers was published in 2004, as Labor FAQs from the Office of Labor Relations. The New York State School Boards Association has published a
report with recommendations to reform
this expensive process.
The principal, working with the NYC BOE, makes the decision who stays and who goes, and this decision-making is done secretly with emails to/from the principal and the TPU, and the teacher being placed on the
ineligible/inquiry list
. I downloaded the instructions to principals which are located on the New York City Board of Education website. To start, read the
letter sent by Florrie Chapin
, Director of the Teacher Performance Unit. You can see that a Principal is the driving force behind a teacher's termination, and the documentation that the TPU gets is based upon
what the Principal sends to the Unit
. Ask yourself this question: if a teacher has received commendations and satisfactory ratings, what is there in the process that could stop a Principal from discarding these positive reviews, or simply not sending them to a TPU attorney? I have found nothing.
I filed a
freedom of information request
to obtain the TAC memos that were emailed to/from the TPU lawyers, Elizabeth "Betsy" Arons (NOT me) and Florie Chapin, Director of the TPU, and
received 79 pages
of emails as well as the names of the TPU lawyers (the
"Gotcha Squad"
) . After a principal requests a TAC, the charges are prepared, and the teacher is declared "incompetent" without his/her knowing anything about it. The TAC is considered
privileged information
and the teacher, about whom the TAC is about, will not be able to obtain these memos.
Tenured teachers who have been given more than one U (unsatisfactory) rating and have not "improved" according to random standards of the administration, are declared incompetent, and then they become the focus of the Teacher Performance Unit or TPU. The TPU is a group of lawyers who work in the Administrative Trials Unit (ATU) of the New York City Board of Education. Teachers are also ambushed in the observation process ("Observation by ambush") when peers come into the classroom and then report exactly the opposite to the principal, as in "oh, Mary Doe is a terrible teacher" when indeed, Mary Doe is the best teacher is the school.
The organization that seems to have a field day with observing problems when there aren't any is the RMC group based in New York City and in a lucrative contract with the New York City Board of Education. I filed a freedom of information request for the contract and received parts of the 252-page document:
RMC Contract1
RMC Contract2
RMC Contract 3
The ATU is described below on the NYC BOE website:
The
Administrative Trials Unit
is responsible for the
prosecution of disciplinary cases.
ATU is available for trainings and advice on how to discipline a tenured employee or permanent civil servant and also to review documentation as it relates to the discipline process. If appropriate, ATU may draft charges under Education Law, Section 3020-a or Section 75 of the Civil Service Law against the subject employee. This process entails a joint effort by the principal and/or supervisor along with the ATU attorney to litigate a case against the employee either for the purposes of progressive discipline or to seek the employee's termination. Should you seek charges, you must schedule a Technical Assistance Conference (TAC) with ATU for a complete review of the employee's personnel file and any related discussions.
Theresa Europe , Director
(212) 374-6749
TEurope@schools.nyc.gov
Patria Frias-Colon , Deputy Director
(212) 374-6754
pfrias@schools.nyc.gov
want to work there? Here is the personnel ad:
Teacher Performance Unit Litigation Attorney
Tracking Code 6036
Job Description
Position Summary: Under the direction of the Office of the General Counsel, with wide latitude for independent action, the Teacher Performance Unit Litigation Attorney serves as a legal representative of the Chancellor, performing sophisticated legal work on disciplinary matters under the Children First reforms and providing training and counsel to school leaders. This team of attorneys will be assigned to handle special disciplinary proceedings as part of a teacher quality initiative and will have the opportunity to work on key policy initiatives in conjunction with the Office of Labor Policy.
Reports to: Executive Deputy Counsel
RESPONSIBILITIES
* Handles legal issues and cases including recommendations concerning determining the soundness of charges, preparing specification of charges, coordinating the gathering of evidence, and briefing witnesses.
* Manages legal cases that are complex and high-profile in nature.
* Represents the New York City Department in Education on Law 3020a proceedings and hearings pursuant to Section 75 of the Civil Service Law.
* As part of a team of attorneys, helps devise strategies for providing improved support and training to school leaders around evaluation and discipline, and for spurring the improvement or removal of poor performers.
* Provides support to school leaders, counsel and training to Superintendents, Principals, and their designees on disciplinary procedures with an emphasis on documenting incompetence and poor performance.
* Acts as liaison to executives within the Department and to members of other City agencies.
QUALIFICATIONS
Minimum Requirements
Admission to the New York State Bar AND three (3) years of progressively responsible United Sates legal experience subsequent to admission to any state bar.
NOTE: Selected candidates must remain members of the New York State Bar in good standing for the duration of their employment.
Preferred
* Litigation experience.
* Excellent research, analytic and communication skills.
* Ability to rapidly understand provisions of applicable law and regulations.
* Ability to write clearly and concisely.
Salary: $75,962+
Resumes will be reviewed on an ongoing basis. We encourage applicants to apply as soon as possible. Applicants must submit a cover letter and resume to be considered for this position.
NOTE: The filling of all positions is subject to budget availability.
The Teacher Performance Unit ("TPU" 2007) is a new unit comprised of experienced attorneys who will litigate incompetence cases against ineffective tenured pedagogues. This unit will provide counsel to principals and other school officials in connection with the preparation and litigation of 3020-a disciplinary charges involving allegations of incompetence. TPU's goal is to help principals improve teacher quality in their schools by bringing and litigating these cases in a thorough, expeditious and effective manner.
The Labor Support Unit ("LSU") is comprised of education consultants who will work in partnership with TPU to provide direct support to principals who are confronted with ineffective tenured pedagogues. The goal of LSU is to work with the principal to help them design support plans for ineffective tenured pedagogues, to provide guidance and general assistance to the principal; to assist the principal in organizing the documentation; to conduct additional observations upon request of the principal; and to coordinate with the Peer Intervention-Plus (PIP+) Program and Teacher Performance Unit. (See RMC Contract, above)
To greater assist your understanding of the process I have included a brief summary of TPU's procedures and policies:
First, if you wish to discuss the case either formally or informally with a representative of TPU, please contact the Teacher Performance Unit at the Office of the General Counsel. To schedule a Technical Assistance Conference ("TAC" or "case conference") please submit, by fax or email a completed TAC request form. (The TAC Request Form is included in this packet of supporting documents.)
Once a TAC has been scheduled, the principal or another school official should submit to TPU a completed TPU principal checklist (also included in the packet) along with the requested supporting documentation. To expedite the process, please ensure all the documentation has been forwarded to TPU prior to the date of the case conference. The pedagogue's entire personnel file, all rating sheets (including any which document satisfactory ratings), along with the accompanying letters to the file, and the observation reports to support the unsatisfactory rating are key pieces of evidence. In addition, all the materials demonstrating the Department's efforts at remediation and offers of professional development should be included in the packet (a sample is included in the packet).
During the case conference, the TPU Director and staff attorneys will meet with the principal to discuss the relevant documentation, and provide advice and guidance. After the case has been carefully reviewed a determination will be made by TPU in consultation with the principal whether to commence the 3020-a process at that time. If TPU decides to accept the case a letter will be sent to the principal indicating that the tenured pedagogue will be charged. At such time, TPU will recommend that the teacher be removed from the classroom and assigned to administrative duties. If a principal requests that a pedagogue be removed for incompetence prior to a TAC with TPU, that request must be approved by the TPU Director, and such requests will be reviewed on an expedited basis.
Alternatively, if a determination is made that the case should not proceed forward, a letter will be sent to the principal indicating the reasons and advising the principal on what action should be taken next. In such instances, TPU and LSU will continue to offer high quality and responsive support to the principal, which will include providing ineffective tenured teachers with quality professional development.
On behalf of TPU, I look forward to working with each of you in the future. Should you have any questions about the materials provided in this packet, the TAC process, or if you have other questions, please feel free to contact me. Sincerely,
Florrie Chapin
Director, Teacher Performance Unit
A New Effort to Remove Bad Teachers
By ELISSA GOOTMAN, NY TIMES, Nov. 15, 2007
The Bloomberg administration is beginning a drive to remove unsatisfactory teachers, hiring new teams of lawyers and consultants who will help principals build cases against tenured teachers who they believe are not up to the job. It is also urging principals to get rid of sub-par novices before they earn tenure.
At the center of the effort is a new Teacher Performance Unit of five lawyers, headed by a former prosecutor fresh from convicting a former private school principal who had a sexual relationship with a student.
A separate team of five consultants, including former principals, will work with principals to improve struggling teachers' performance. In cases where the teachers fail to get better, the consultants will help amass the documentation necessary to oust them.
The plans, at a cost of $1 million a year, are described in a memo and an accompanying letter to principals from Schools Chancellor Joel I. Klein. In the letter, he urged principals to help teachers improve but added, "When action must be taken, the disciplinary system for tenured teachers is so time-consuming and burdensome that what is already a stressful task becomes so onerous that relatively few principals are willing to tackle it. As a result, in a typical year only about one-hundredth of 1 percent of tenured teachers are removed for ineffective performance.
"This issue simply must be tackled," he wrote.
In the memo, Dan Weisberg, the Education Department's chief executive for labor policy and implementation, wrote that the Teacher Performance Unit "represents a significant infusion of resources that will ensure we have the capacity to seek the removal of all ineffective tenured teachers who, in spite of receiving the time and support sufficient to allow them to substantially improve, won't or can't do it."
The unit, Mr. Weisberg wrote, "will also allow us to seek discipline where appropriate in a wider range of cases than before." The unit is being run by Florence Chapin, a former Manhattan assistant district attorney.
Randi Weingarten, the president of the city's teachers union, the United Federation of Teachers, called the lawyers a "teacher gotcha unit" and said she found it "disgusting" that the Education Department would issue such a memo after the release of new school report cards that bluntly grade schools A through F.
"We've always been concerned that the first thing that would happen after somebody put out progress reports would be principals would go after teachers," Ms. Weingarten said. "Basically, it's signaling to principals that rather than working to support teachers, the school system is going to give you a way to try to get rid of teachers."
New York City has roughly 80,000 public school teachers, and once they receive tenure it is notoriously difficult to remove them, because of the union contract and state labor law, which guards the rights of tenured public employees with an elaborate process of hearings and appeals.
Only about 10 to 15 tenured teachers a year leave the system after being charged with incompetence. Other teachers are removed for outright misconduct.
More than 700 school employees, mostly teachers, are now assigned to centers known as "rubber rooms," after having been removed from the classroom. While school officials say those employees are under investigation or at some stage in the disciplinary process, teachers' union officials say that many have had no charges filed against them.
Mr. Klein has long spoken out against three poles of the civil service system for teachers — seniority rights, lifetime tenure and lock-step pay.
The city and Ms. Weingarten recently agreed on a plan to reward teachers for outstanding performance by allowing successful schools to compete for bonuses that would allow them to dole out extra pay to teachers.
The push to remove bad teachers represents the flip side of the equation and comes as the city is less than a year into an effort to get principals to more rigorously review probationary teachers who are up for tenure.
Mr. Weisberg said in an interview that he did not know how many tenured teachers would be removed. He said there "probably will be an increase" in incompetence charges.
"I believe very strongly that the number of these struggling tenured teachers is very small compared to the total number of teachers, but even if it is 1 percent, even if it is half of 1 percent, we have to address it," he said.
Since the mayor earlier this year announced a more rigorous tenure review process for probationary teachers, the numbers denied tenure at the end of the three-year probationary period has increased modestly.
Since late March, when the new system started, 66 probationary teachers were denied tenure , or 1.3 percent of those eligible. In the previous school year tenure was denied to 25 teachers, or .5 percent of those eligible.
In addition, 115 teachers had their probationary period extended this year, up from 30 in the previous year.
Mr. Weisberg's memo also described a new program, agreed to by the teachers union, under which principals can call upon teachers from outside the school system to spend three months observing tenured teachers in danger of being disciplined for incompetence.
The memo said that while the outside teachers may help floundering teachers, their written evaluations would also "likely carry a great deal of weight in disciplinary proceedings seeking the teacher's termination."
New Monastic Individuals
The entire ATU/TPU/TAC process
infuriated the UFT leadership.
The problem is, well...one of the problems is: what does "incompetence" mean? Who defines whether or not a teacher is, really, "incompetent"? The No Child Left Behind legislation requires that every classroom have a highly qualified teacher in every classroom. The problem with this is, what does the term "highly qualified" mean? Who is a "good" teacher and who is a "bad" teacher? We have no 'American standard' to help us define what it means to be a "good" teacher, other than to record the scores on standardized tests of students in each class. There are thousands of reports on how this happens, but in the end, defining a "good" performance is almost always a subjective judgment.
The parents of public school children and the teachers of the public schools in NYC know that Mayor Bloomberg and NYC BOE CEO Joel Klein dont want anyone to have any power over educational policy decisions except them, and their people. So they designed a process which I call the "rubberization" process to remove anyone from his or her job for any reason, at any time. Mr. Klein, not an educator, was brought in to be CEO (
he is not chancellor because he has no contract
) in order to be the Attorney for the NYC Department of Education and squash any and all efforts to make the DOE transparent or accountable to the public. Teachers who sue Mr. Klein individually and officially never get to depose him because the NY State Supreme Court says that he is the Attorney for the DOE/BOE ( the name New York City Board of Education was never changed legally) and therefore information must be kept confidential between Principals, administrators, and the Corporation Counsel, Office of Legal Services, as well as the ATU.
Thus, the reason for the Technical Assistance Conference or TAC, in which the employee is not involved.
Additionally, a teacher may be accused of "verbal abuse" or "corporal punishment" in the same way as being charged with "incompetence" - see the
story of Glenn Storman
, his
complaint in federal court
, and the
decision in New York State Supreme Court
where Judge Kornreich said the OSI investigation and the New York City BOE were "irrational". But this did not stop the NYC BOE, PS 212 Principal Josephine Marsella, OSI investigator Dennis Boyles, and Deputy Chancellors Andres Alonso and Marcia Lyles, both of whom have left New York City. We might ask Joel Klein if Alonso and Lyles were forced out because of this case. Read the
Report and Recommendation filed by Magistate Judge Andrew Peck
and you will get a very good summary of the "Gotcha Squad" at work.
Thank you Magistrate Peck!!
RMC trains peer observers to go to schools and "help" principals evaluate teachers:
PIP+ Peer Observation and Evaluation Training Manual (Part 1)
PIP+ Peer Observation and Evaluation Training Manual (Part 2)
Also, the NYC BOE hires people who they have fired in the past, like
Chad Vignola
. He was the General Counsel for the NYC BOE until he allowed Deputy Chancellor Diana Lam's husband to get a job as Principal without telling the Conflicts of Interest Board. He was fired, and now he heads a new Principal Support Group inside the NYC BOE "Children's First Network" (yet he doesnt even put his previous years of service to the NYC BOE in his resume)
JUST CAUSE STANDARD