RICO in the New York State Unified Court System: How the Courts Steal Your Property, Your Children, and Try To Destroy Your Life...And How You Can Stop Them
The judges and their colleagues in the New York State Unified Court System are operating under the umbrella of "absolute immunity" in order to rob and harass you and convert your property to their ownership. Dont fool yourself into thinking that anyone in the State legislature doesn't know this is happening, and wants to do anything about it. You just have to outsmart them all by documenting everything, like I did. I may not win my lawsuit against them in Federal Court, but I now have the intervenors/conspirators online for the public to see how it all works. Please share this information. Betsy Combier
People are being victimized by the courts of America's "justice system" every day, often without knowing anything until it is too late. Perhaps this has happened to you, and you have been left without your property, family member and/or child. In 1998, the Manhattan Surrogate Court decided to deny me the property left to me by my mom in her Will dated November 21, 1997, and has pursued this goal with such venom I almost died on July 22, 2006 trying to stop the Judges, lawyers, and common folk - including my twin sister - who decided to steal the property and deny my rights to it.
The property in my mom's Will that she wanted me to have is sitting right now in a cold garage and house at 2110 Quaker Ridge Road, in Croton-on-Hudson, owned by a man named Lawrence Mark. Mark says that he was given the right to hold onto the property by me and my sister, yet I remember no such agreement. And I have a phenomenal memory. My lawyers must have made some deal in secret, to help stop me from probating my mom's Will, and this is the pattern that runs throughout the past twelve years. I, a reporter and video producer for more than 35 years, have dedicated myself to getting my mom's property back, and I'm writing this article to tell you what I have found out about the people who work in five courts in NYC, my twin sister, my church, the Presbytery of New York City, and wealthy insurance company Guide One Insurance Company, all of whom have joined together and denied me my Constitutional rights.
Judges threaten lawyers - the people who are being paid by you to defend you and protect your interests - and make the Attorneys facing the Court do what "they" - the judges and their political partners - want, and work with the "fixer" to steal property, take children, and plunder estates for personal gain. I know what 'they' do, because when my church -
Madison Avenue Presbyterian
, ("MAPC") in New York City - came after me in 1998 after my mom's death, I was an innocent victim, and I did not know that the Courts were dishonest. I relied on the Rule of Law and my Attorneys to do the right thing, which was always to probate my mom's Will. This was my mistake.
All the actors in my RICO case described below met the mind of Mr. Kenneth T. Wasserman, an Attorney who told me on March 17, 1998, the day after my mother died in her sleep, that he worked for my twin sister (untrue) and he would "get me" for being named the beneficiary of my mother's estate. Several years later I found out that my sister did not hire him, it seems that Guide One Insurance Company did, as well as the Unified Court System of The State of New York. If you listen to the 14 1/2 minute tape I did of Wasserman on Jan. 2, 2007, when he called me at home to tell me that I must go to a deposition the next day (he called me and was yelling at me, so I hung up, and ran to my tape recorder and turned it on when he called back). I asked Wasserman who was paying him, and he told me that this was not information that I could have.
Click here for a true copy of the transcript
.
The right answer would have been, of course,......my sister Julia Danger. After he hung up, I called detective Michael Ahearne at the 19th precinct to ask him who was paying Wasserman. He told me that the judge was paying him to harass me.
Wasserman is Paid by Moskowitz, Audiotape made Jan 2, 2007(WAV format)
When my mother died during the night March 15-16 1998, I had no idea that
my church, the
New York City Presbytery
, and the Judges and court personnel of New York State would collaborate on a campaign to defame and harass me for researching their
organized conspiracy to commit extortion and coercion
and for being named, in
my mom's Will
, the beneficiary of my mother's apartment on the Upper East Side of Manhattan, New York City. The
Surrogate's Court in New York City
is located at 31 Chambers Street. The
Public Administrator
's office is on the fourth floor, while the Surrogate Judges - Interim Acting
Judge Troy Webber
and
Judge Kristen Booth Glen
- are on the fifth floor of this building. Their jobs are to
convert property
from your ownership to theirs, and take whatever cash is available through altering Wills and/or outright theft of property. I call this a form of Court-supported
eminent domain
policy. Since 1998 I have been subjected to this gang, all of whom are now named in my Federal Lawsuit, and I have documented all of their actions and conversations. In
New York State it is the law
that anyone can tape anyone else without telling the person who is being taped, if you are in the conversation. When Mary Santamarina, the senior Attorney for the Surrogate Judge (
Renee R. Roth, center
) in the law department at 31 Chambers Street started calling me up with lawyer Kenneth Wasserman, the man who has made all the errors for the past eleven years while carrying the burden of making the
RICO
work, I turned on my tape recorder. I guess you could say that the intervenors picked the wrong person to make into a victim. I may die before getting any relief, of course, but that is a possible outcome that have accepted, in the hope that I can give light to the corruption of the New York State and Federal Court system. I also have a blog on
NY Courts: NY Courts-New York Court Corruption
.
Santamarina and Wasserman have threatened me, screamed at me, and tried their very best to alter my reality since about 2003. I didnt fall for it. A man named "Bill Jorgenson" from Eliot Spitzer's office called me and did the same thing. I wouldn't fall for that either. But it wasnt easy, and when Judge Roth ordered my mother's
last Will out of existence on July 19, 2006
, and I received it by certified mail on July 22, my heart failed and I spent three days in the hospital as the doctors tried to get my heart back on track. Fortunately they were successful, so that I can bring this story to the internet and, if something does happen to me, the people involved can be held accountable for setting up the RICO of the
New York State Unified Court System
.
Mary Santamarina and former Judge Renee Roth knew that these proceedings, the Probate Proceedings of the
Will of Julia Taschereau
, could not stay in the courtroom of Judge Renee Roth due to the conflict of interest with Proponent's witness
Henry "Hank" Sheinkopf
, who knew my mother. My mom liked Hank a lot because she thought he was very smart and he was on TV, which made him a TV star in her eyes. Hank ran Judge Roth's election campaigns, and personally knows Santamarina and the other personnel who assisted Judge Roth when she was on the Surrogate Court bench. Hank also worked on the campaign of current Manhattan Surrogate Judge Nora Anderson, who was, in January 2009, indicted for election fraud.
In February 2000 Wasserman filed an unverified two page paper he called "Objections To Probate". His case of undue influence cited the collusion of Proponent with Henry Sheinkopf to obtain the services of an employee in his office who also happens to be an Attorney, Mr. Kenneth Brown. I did not do this, and this was part of the fairytale that Wasserman has made up and the conspirators have followed and used against me since 1998. He added the standard objections saying my mom was mentally incapacitated when she wrote the Will, which all four of the witnesses to the signing of the Will on November 21, 1997 deny. Indeed, my mother was on staff of MAPC throughout 1997-March 1998 and she worked at a concert at the church on the day she died, March 15, 1998. Wasserman never filed this two-page paper in Surrogate's court, nor did he file any of the 1404 depositions of the signing witnesses. The Surrogate Court Procedure Act (SCPA) states that all Special Proceedings must be Verified in the form of a Petition. Roth ignored this Law, and allowed Wasserman to do whatever he wanted to me in order to "prove" that the 1997 Will was not valid. But he never proved it.
So, Roth, Santamarina and Wasserman had to do something else to prevent me from getting the Will probated. In 1999 Wasserman filed a lawsuit against me in New York State Supreme Court, saying that I converted money from the Samuel Strauss Trust (created in 1953 by my grandfather, for me and my sister Jill) that my mom lived on, to my own use. Only Jill and I had
already closed the Trust
at Banker's Trust, and signed a contract that there would be no liability for either me or Bankers Trust (and, I never had access to the Trust funds, anyway). Judge Beatrice shainswit dismissed the case in December 1999, only to be "convinced" by Wasserman to send it to Civil Court on a 325D order, then to pluck it from there 6 months later, in 2000, and send it to Surrogate's Court where it never belonged, because there was no Trustee named in the lawsuit, and the Trust no longer existed. Judge Shainswit had no authority to send it over to Surrogate's Court either. Six years later judge Roth admitted that it did not belong in Surrogate's Court, so she sent it to Gloria Smyth Godinger at NY State Supreme Court (60 Centre Street) who assigned Judge Karla Moskowitz to harass me for another 1 1/2 years. When I begged Gloria to take the case out of the court (I was never served any papers that didnt exist and there was no Trust or named Trustee) because "the case didnt exist", I was using the wrong argument but didnt know it. The case existed because Gloria put it into the court computer and assigned a judge. She told me that she got all the papers from Judge Renee Roth. Again, there was no Trustee and I was never served any papers. (Gloria - I got your name right, didnt I?)
On August 4, 2009, the proceedings designed to invalidate the 1997 Will of Julia Taschereau, begun in 1998, climaxed with the filing of a
Verification
signed and
notarized by Julia Danger on July 30, 2009
. This Verification stated that the two-page document filed on February 16, 2000 with the title "Objections To Probate" was indeed truthful, and that objection No. FIRST (number one) had been withdrawn. Surrogate's court has no power to decide on the validity or falsehood of the "Objections To Probate" due to lack of jurisdiction, laches, and
testimony of Julia Danger
that nothing in her "Objections" is true or known by her, and everything was conveyed to her by third parties who spoke with her attorney, Kenneth T. Wasserman ("Wasserman"). Yet
Wasserman was allowed to harass me from 1999 until October 1, 2009
, when the Appellate Division, First Department, dismissed the case
Danger v Combier
with prejudice, permanently, on my papers.
After being locked in to the Surrogate Court chambers of Interim Surrogate Troy Webber on April 1, 2009, during which she, Webber, told me that I would soon be placed on trial without a jury before her, I sued in United States District Court under RICO. Below you can read my Second Amended Complaint filed and served November 24, 2009.
Second Amended Complaint
Exhibit 1
Exhibit 2
Exhibit 3
Exhibit 3A
Exhibit 4
Exhibit 5
Exhibit 6
Exhibit 7
Exhibit 8
Exhibit 9
Exhibit 10
Exhibit 10A
Exhibit 11
Exhibit 12
Exhibit 13
Background
MAPC was unionized when my mom and I started helping the building staff in 1994. However, the Pastor, Dr. Fred Anderson, was harassing the building staff in order to bust the Union,
Local 32 B&J
and remove the union from the church. Additionally, the Trustees of MAPC were engaged in using the church property to
finance real estate deals for "political friends"
(both members and non-members of the church) with Mr. Gregory Moundas of the law firm
Proskauer Rose
. A Partner at Proskauer, the late
Stephen Rachow Kaye
, was the husband of the Chief Judge of New York State,
Judith Kaye
, arguably the single most powerful person in the State of New York. This really is the perfect crime. Due to the
Establishment Clause
in our Constitution, there is a separation of church and state in America that works for some, but not others, in putting religious institutions above and outside of the law (whenever it suits "them"). My mom, Julia Taschereau, understood that the Church that she donated her life to was the perpetrator of theft, false claims, and crimes against the public, so she kept quiet about everything she heard, and was able to remain a volunteer at MAPC for more than 49 years. She told me everything that was going on at 921 Madison Avenue, 7th floor, and we played at being detectives. She was raised in the theater and disguised her dislike of Fred Anderson with great success and diplomacy. Her performance was Oscar material.
Fred Anderson knew that I was hearing about what he and the Trustees were doing, and
admitted at his deposition
in 2001 that "they" - he, Associate Pastor Charles "Chuck" Amstein, the Trustees and Session - decided to get rid of me as soon as my mother died or was incapacitated. In 1996 Fred and Amstein
joined up with my twin sister Julia Danger
("Jill") who writes rather bizarre letters about everyone and everything. In 1996 she wrote a letter to our mom telling her that I a needed to be in a mental institution and was a terrorist. A few months later, on July 14, 1996, Chuck Amstein called me up to tell me that I disgusted him, and his goal was to destroy the relationship that my mom and I had - which was a close mother-daughter loving friendship. Instead of pulling my mom away from me and my four daughters these attacks made her angry, and brought her closer than ever to me and my family. She silently despised Fred Anderson for his treatment of the staff at the Church and then of me.
On July 25, 1997, her life changed when Jill, who was staying with our mom in her apartment (she forced her way in), threw mom to the floor of the kitchen, and left for California the next morning with her daughter Julie and Julie's boyfriend, leaving mom lying on the sofa in alot of pain. I received a call at approximately 7AM to come and help her. I ran the 12 blocks to mom's house, and got her to the Lenox Hill Emergency Room. Mom never wanted to see Jill again, she kept saying over and over again. My mom had a lawyer write a
Will in November 1997
and she arranged for the signing ceremony to be at her apartment. I told her that I did not want her apartment, but she left it to me anyway, and left Jill nothing in the apartment, but Jill and I both received almost $600,000 each from our grandfather's Trust fund held at Banker's Trust Company (now Deutsche Bank). Mom felt that this money, not part of her estate, was more than enough for Jill, who had become quite rich, according to Jill's financial advisor, Dorothy "Dee" Osborne.
My mom was born on Valentine's Day February 14, 1914, in New York City, to newspaperman/journalist Samuel Strauss and Broadway theater angel Irene Rosenfield, both of whom were of German descent and married in Des Moines, Iowa in 1903. Julia Strauss was their only child, and they raised her in Katonah and New York City, New York; they also had apartments in Paris France and in London, England. My mom was a people magnet. All her life she drew people to her with a genuine interest in every person she met. She cared about helping anyone who needed it. She had the lightest and biggest blue eyes I have ever seen, and gave parties at her apartment every couple of weeks for the church choir or for someone's birthday. Her apartment was always packed with people because everyone and anyone was always welcome, until the beatings from my sister Jill became extreme. Then there were no parties when Jill arrived for her summer visits in July, with the boyfriend of the moment in tow after her bank-robber husband Claude Danger left her for his mistress in 1980.
When my mom died in her sleep after working at the Church all day (the night of March 15, 1998), I called Charles Amstein, or "Chuck", (the Associate Pastor of MAPC) and asked him to join me at my mom's apartment. I also called my sister in Paris, she hung up on me. Chuck told me that he "would take care of everything" including the cremation of my mom's body, and the disposal of items in the apartment. I told him my mom hd left her apartment to me. He was outraged. After he left, Chuck told Fred that I had received my mother's apartment in the Will. They immediately contacted
Guide One Insurance Company
and an Attorney called "Kenneth Wasserman", who called me up on March 17, 1998, and screamed insulting remarks and threats at me, saying I "better" give my sister half of the apartment "or else".
Anderson arranged for my mom's memorial service on March 30, 1998, and he told me that I could come if I wanted to. On March 22 I received my mom's ashes in a box, and this upset me so much, I asked Chuck Amstein to hold onto the box for me until I could deal with them. Little did I know that the next day the Session voted to remove me from the membership at the Church because, Chuck told me in a letter, I was being sued by my sister and they could not be involved (Jill was not suing me). He offered to consider giving me my membership back if I agreed to be nice to Jill (i.e., give her half of the apartment and property). I complained about the removal to the Presbytery of New York City at 475 Riverside Drive, where the person who accepted by complaint told me, "oh, yea, Anderson never gives us any of the financial papers that we ask him for, so it figures that he wants to get rid of you".
Anderson demanded a trial, so I went before the Judicial Commission and testified for one year about how the Presbyterian Church's Constitution did not permit excommunication because of personal circumstances (my sister still had not filed any lawsuit). Fred Anderson yelled and screamed that he did not want me back under "his" roof, but exactly one year later, in July 1999, I won my membership back. Two weeks later I sued, because Chuck would not give me my mom's ashes, when I asked him to, in July 1998. He told me that the Attorney "for your sister", Mr. Ken Wasserman, had told him not to give me my mom's ashes back, because I would bury them without my sister being there. Where he got this idea, I didnt know. But the "rivalry of the twins" became Wasserman's mantra.
This was Wasserman's fairytale. Even though Jill beat our mother and stole anything of value from mom's apartment whenever she could, my mom protected herself extremely well. As Jill is unstable, we pretended to be calm, cool and collected whenever Jill flew in from Paris France to stay at our mom's apartment. We pretended everything was fine, so that Jill would not hurt mom. Mom would, before Jill's plane landed, put all her valuables and checks in a suitcase, and take it to her office at church, where it remained under her desk until Jill got back on the plane. Unfortunately, Jill still harmed our mother on July 25, 1997, by pushing her to the floor in her apartment. The neighbors heard screams about money and told me and the Superintendent of the building. I took he to the hospital emergency room and she needed a walker after this. Mom started telling everyone that she never wanted to be alone with Jill ever again. She then re-did her Will, leaving me her apartment, and Jill $500,000+ in the Banker's Trust Samuel Strauss Trust.
Thus, barely sixteen days after my mom's death the members of MAPC Session heard from Fred and Chuck that I had to be removed from the membership. They made up a "battle" between Jill and me in order to get rid of me.
Mr. Wasserman told them that I stole "six figures
" from my mom's Trust at Banker's Trust, and they should not give me my mother's ashes. When I heard that they - the Session - had removed me from the membership of the church, I filed a complaint at the
Presbytery
.
In July 1999 I won my membership back, and
sued in NYS Supreme Court
. By the time this case went to trial in 2004 - my attorney was Jonathan Landsman - I knew that Wasserman had made himself a "
Respondent" party
in the case, from a woman named Peggy Mundy, who worked for
Guide One Insurance Company
. At trial, I was threatened by the trial judge Lottie Wilkins that I could not speak about a "church" in front of the jury. Despite this, the jury came back with a verdict that the
Church was liable
for withholding my mother's ashes from me, and this was not justified. They were going to award me $300,000, but Judge Wilkins dismissed the case saying there was a mistrial, and that I and my attorney had to be back in one hour with a new jury. We started a new trial two weeks later (the Church Attorney needed to fly my sister in from Paris to lie about me on the stand). The second jury took 19 minutes (this includes lunch) to decide that yes, the
church was liable, but "justified
".
Wasserman testified that I was a despicable monster, and should not have had the ashes at all. The Appellate Division agreed that "under the circumstances", withholding the ashes from me was entirely "justified" (...as I was such a monster, abusing my mother, taking her money, etc - all lies). In 2005 I wrote about all of this:
Without a Prayer For Relief: The NY State Supreme Court is Bought By Guide One Insurance Company and a Church, Madison Avenue Presbyterian
LINK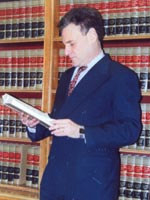 Kenneth Wasserman
Then, a year later, he turned everything that I had testified to, into a lie, and
set up, with Mary Santamarina, the Senior Attorney in the law department
, a Will contest that even my sister Jill Danger said was false. For this reason, the "
Objections To Probate
" written in 2000 were not verified until
Interim Acting Surrogate's Court Judge Troy Webber put me on trial without a jury
on August 4, 2009. Simultaneously with the filing of the unverified "Objections", Wasserman filed a lawsuit against me in New York State Supreme Court, saying that I stole money from the Trust at Banker's Trust, that both Jill and I had agreed to close and we
signed an agreement in June and July 1999
. A few months later, Wasserman filed his lawsuit, but never named Banker's Trust. My new lawyers, Eli Uncyk and Jeff Kofsky, formed a partnership with Wasserman to have me pay them large fees by stipulating that I could
not defend myself against the charges
by saying that Banker's Trust, the Co-Trustee, had to be a named Defendant. I knew nothing about this until 2003, and I fired Eli and Jeff for harming me and not protecting my interests by pursuing the case "Danger v Combier" which had no subject matter jurisdiction in any court. Eli Uncyk and Jeff Kofsky also made me pay for their time as they pursued the case Danger v Combier in Surrogate's Court, where I and everyone else knew it did not belong, and, at the same time, the Will Proceedings of Julia Taschereau, that had no validity due to the unverified Objections not being corrected with a verification signed by my sister, Julia Danger. Why they all continued the harrassment of eleven years without a verified petition is beyond me. But now they are all named in a RICO for this reason, and I'm writing this article about their stupidity.
I hired another Attorney, Jonathan Landsman, who was extremely verbally abusive, and on or about the end of March 2004, dug his nails into my shoulder to make sure I knew that I had to stay under his control. I became terrified of him. However, I did not fire him until 2005, when I received from a source that he and Wasserman and the Surrogate Court were conspiring to deny me the Probate of my mom's Estate. When I tried to stop him from causing more legal damage,
Surrogate Judge Renee R. Roth
threatened me that she would allow him to withdraw, but if I didnt find another attorney in 30 days, she would not probate my mom's Will. She also ordered me to pay him almost $8,000 for his legal work, and put a lien on all my papers in his office, knowing that I did not have the money. I also told her that I would not pay for Mr. Landsman's fraud on the court, then Roth decided to force me to, in July 2006, merely one week after she
ordered that my mom died without a Will, or "intestate
". That's when she sent the case "
Danger v Combier
" back to NYS Supreme Court, to the docket of Judge Karla Moskowitz. Roth had no judicial right under the law to send the matter back to NYS Supreme Court for the third time.
At the NYS Supreme Court there is a small room in the back of Motion Support, and in this room the corruption on the internet occurs, under the management of Gloria Smyth Godinger. I spoke with her about how she could have put into the court system the case "Danger v Combier", when it did not exist, and Judge Roth had no jurisdiction or power to transfer this matter from Surrogate's Court to the computer at Supreme Court. Godinger told me "Roth told me to do this". I was never served. I went to the court conference on September 13, 2006, and told Judge Moskowitz that she could not pursue this matter as there was no Trustee and there is no Trust, and there is a binding agreement, but she threatened me anyway with contempt. I went back, with more research on the law, on October 3, 2006, and she screamed that I had to be deposed, and that I was being placed into the trial calendar, at Wasserman's request. I never went back. On January 2, 2007,
I received another call from Wasserman
telling me that I had to be deposed again, and then I called the 19th precinct, as I had
filed a complaint in August 2006
against Wasserman for harassing me. Detective A'Hearn told me that he had asked Wasserman in August to stop talking badly to me, and then he told me that he had also spoken with Judge Moskowitz and her law clerk, Eric Reiss. The Detective told me that Moskowitz was paying Wasserman to harass me, so this "is not a criminal matter but a civil matter, and there is nothing I can do". I was taping this call, so I made copies, and distributed the tapes to Wasserman, Moskowitz, Tom Werner (administrator at the NYS Supreme Court), Roth, Santamarina, Eliot Spitzer, Judge Jonathan Lippman, and many other personnel of the court system.
In July 2007 I wrote a Motion To Dismiss the case, which Moskowitz granted on December 30, 2007. Eliot Spitzer appointed Moskowitz to the New York State Supreme Court Appellate Division First Department on January 3, 2008. On or about February 5, 2008 I met with investigators from New York State Comptroller Tom Napoli's office, and gave them the tape and the documents of the "Danger v Combier" matter. A month later Eliot Spitzer resigned, supposedly for transporting a prostitute across state lines. Upon information and belief, this was only one of Mr. Spitzer's massive misuse of NYS public money. In 2006 I and another resident of NYC met with FBI agent Robert Katzman about Roth and Eliot Spitzer, for more than 3 hours.
Surrogate Judge Renee R. Roth retired in Dember 2008. She moved her office to the lawfirm McClaughlin and Stern at 260 Madison Avenue, and moved Jonathan Landsman there as well. I hope he has kept all my papers intact. I was sent a letter from the
new Surrogate Judge, Interim Acting Judge Troy Webber
, who told me to come for a pre-trial hearing on April 1, 2009. Troy Webber was appointed to the Interim position after
Nora Anderson
won the election for Manhattan Surrogate to replace Renee R. Roth, but then Anderson was indicted for fraud along with Attorney Seth Rubenstein (who, by the way, I saw in court with Troy Webber on June 9, 2009).
The Federal Lawsuit Combier v State of New York, 09 CIV 5314
I asked for a court reporter, as I always did, and Webber told me that I would have one. On April 1 I brought two colleagues with me, and when we got to the door of the courtroom, court officer Randy Dash pushed me inside and slammed the door shut leaving my two friends outside. I complained to Webber, but she said "sit down" and "you are fifteen minutes late".
For the next two hours
I was ignored, insulted, and treated as if I had never done anything right. Werbber also told me that if I put a copy of the tape from the hearing on my website or out in the media, she would hold me in contempt. On April 10 I showed up at Surrogate's Court to get a copy of the tape, and unbeknownst to the court personnel, I brought a sound engineer with me. I asked to copy the tape of the April 1 hearing, and the Senior personnel officer Marc Sabel allowed me to do that. With this copy of Webber, I got a transcript made, and then
sued her in federal court
for violating my First Amendment rights. In retaliation, Judge Troy Webber determined that she would have a trial without a jury before her. The bench trial (trial without jury) on the issues of the capacity of Julia Taschereau and undue influence began on August 4, 2009 and lasted until September 14, 2009. Every day of the bench trial Webber screamed at me, told me that I was a problem, and winked at Wasserman and my sister. I was my own attorney, and I survived, but I dont know how. I wish I could say that I had become used to the extreme verbal abuse I received from all the intervenors listed above.
Starting in or around 2003 until 2006, as I explained to the Surrogate court on several occasions during the trial, Mr. Wasserman and Ms. Santamarina called me at home approximately once or twice a month, and they both yelled at me that I would win the Will contest but not the Banker's Trust case, made up by Wasserman, and that I must immediately give my sister $375,000. Then the amount became $300,000, then $200,000. The threats were abusive. I knew that there was no Trust case, so I was able to withstand these attacks and say no. I knew that the only case over which the Surrogate Court had any jurisdiction was over the 1997 Will of Julia Taschereau, just as Judge Roth admitted in July 2006, five days after she
ordered my mom's Will out of existence
.
For this act and others I sued Surrogate Webber and Mary Santamarina on June 8, 2009 in United States District Court, Southern District, and filed a
Second Amended Complaint
on November 24, 2009. I alleged every day of trial that the trial forced upon me by Surrogate Webber without a jury was a fraud and was scheduled because Judge Webber wanted to retaliate against me for suing her.
I guess that you could say I am lucky that Wasserman turned out to be incompetent at implementing the corruption and fraud that the Church management, Presbytery, and their colleagues in the New York State Court System wanted to set up. Starting in 1998 and continuing until the present, Mr. Wasserman has altered documents, lied about filing papers and serving me, and has acted as part of an organized plan to rob me of the property left to me in my mom's 1997 Will, all arranged by Guide One Insurance Company, The Presbytery of New York, Madison Avenue Presbyterian Church, the Surrogate Court in Manhattan, the New York State Supreme Court, and First Department Appellate Division in my sister's name. I have all of his errors and incompetence documented.
Of course, whenever you file a lawsuit you must check out the judge/judges who are assigned to the case. The Southern District assigned my case to Federal District Judge Richard Holwell, and he assigned Magistrate Judge Frank Maas. Now I'm willing to give anyone the benefit of a doubt, but I do see conflicts of interest with both of these judges being on this particular case. Judge Maas, for example, had a trial and convicted a man in 2004 without jurisdiction to have a trial, and
I wrote about it
and published the article in 2006. Posr is the man who serves all my papers for me in this matter, and Maas has to verify them.
This case, including false statements and unverified papers as well as a 6-week trial without a jury is not about Julia Taschereau, but about something reprehensible to decent minds: the crushing of truth, sabotage of evidence, and denial of due process rights. This issue that needs to be addressed by the legal system of this state and. Perhaps, of this country, is how the Rule of Law was pushed aside for eleven years to punish me for whistleblowing union busting, construction sabotage and fraud at my church, and fraud on the public by a large and powerful insurance company.
Request from Betsy Combier:
If you have any stories involving Attorney General Andrew Cuomo, Assistant Attorney General Monica Connell, Judge Jonathan Lippman, Proskauer Rose, Judge Renee Roth or any New York State Judges, please email me at betsy@parentadvocates.org. Additionally, if you have any information about John Libecci, please let me know:
A current update of this story occurred on Sunday, August 16, 2009, when a friend of a friend called me at approximately 2:10PM, a Mr. John Libecci. Mr. Libecci is, I understand, a private investigator who knows a friend of mine socially. I asked whether he could help me find out some information involving my federal court case filed in United States District court on June 8, 2009 involving the Surrogate Court and my mother's Will. After I told him about the property being taken by the court, he told me that the court never takes property without a reason; after I told him that the Will was not probated for eleven years, Mr. Libecci told me that "obviously the Will was not done right", and said that he worked for the Courts and the Judges, would not tell me what he did for the Court and the judges, then hung up.
You may send me any information anonymously.