Parents, Staff, and the Queens Community Rally Against the Arbitrary Decision By the NYC Department of Education To Close PS/MS 42
The District 27 Queens community as well as the staff, parents and students of PS/MS 42 are outraged that the NYC Department of Education will close PS/MS 42 in June 2018 without a valid reason. The trouble is that in NYC decisions are made in secret as part of a political pay-to-play scheme for which Mayor Bill de Blasio and Chancellor Carmen Farina are famous. This closure is clearly directed at displacing a powerful group of UFT members at PS/MS 42 who will, in September, be placed into positions as substitute staff nomads, roaming different assignments in Queens as Absent Teacher Reservists (ATRs). Bill and Carmen, STOP the vote!!! Protest by Editor Betsy Combier
Joint Hearing: February 13, 2018 at 5:30PM
PS/MS 42
488 Beach 66th Street
Averne, Queens 11692
Wednesday February 28 2018 at 5PM
PEP meeting and vote
Murray Bergtraum High School
411 Pearl Street, New York, N.Y. 10038
PETITION TO KEEP PS/MS 42 OPEN
We respectfully submit to the PEP our petition to reconsider the closing of PS/MS 42Q in Arverne, Queens. WE MUST NOT BE CLOSED!
See the proposed list of schools to be closed/truncated on February 28, 2018 at the PEP meeting
PS/MS 42Q has served the community for over 100 years and has seen Dr. Jonas Salk himself graduate.
The Queens Borough President Melinda Katz has joined in the fight to stop the closing of PS/MS 42
Now we are called a "renewal" school. But we fought hard and were proud of the very measurable progress we have shown over each of the last few years. Yet despite our efforts and successes, the Department of Education has announced that they are closing our school. The Arverne community and teachers are not about to stand idly by as our school is repurposed as a centerpiece for gentrification. A closer look at some of the many factors that appear to be driving this decision indicate there may be reasons beyond what the city has cited. We must not allow fake news to force the closing of PS/MS 42.
PS/MS 42 is also a Title 1 School,
and as such must have
extra scrutiny by the Department
on progress and parent/community involvement. This never happened.
.Of ALL NYC K-8 renewal schools PS/MS 42 has shown the LARGEST percentage of growth between the NYS ELA and Math exams from 2014/2015 to 2016/2017, at 16%. This must mean growth and improvement lie outside the deciding criteria.
·Of all the K-8 Renewal Schools only PS/MS 42 received a Student Achievement rating of 'Good'. All other K-8 Renewal schools received a rating of 'Fair.' So clearly student achievement was not a deciding factor, either.
·One K-8 Renewal School started with 9% of students proficient on NYS Math exams in 2014-2015. During the school year 2015-2016 they were able to make 1% increase. However, in 2016-2017 they DECREASED by 1%. Showing NO net growth from 2014-2015 to 2016-2017 yet they are slated to remain open. Why?
·At P.S.165 in Brownsville, Brooklyn, just 9% of students are proficient in mathematics, and enrollment has dropped 51 percent, but the school will remain open. While PS/MS 42Q has shown growth in ELA and Math and enrollment has not dropped but still will be closed. So declining enrollment must not be part of the deciding process.
·PS/MS42 has a very strong Parent Advocate in Queen Maakeda who was instrumental in securing a 6 Story $50,000,000 State of the Art Middle School in addition to the existing building, in September 2011.
·In recent years Arverne by the Sea, a housing development begun under the Bloomberg Administration, in an attempt to spur gentrification, built a number of new homes in the area, each worth over half a million dollars.
Arverne by the Sea offering
They made their own community, shops, YMCA and a super Stop & Shop. The only thing missing as part of the stand-alone community, is a school. (...they were promised an 800 seat elementary and a 300 seat middle school….. EXACTLY the number of seats that PS/MS 42 has now, no other school in the Rockaways has this). The new school will have the exact same number of seats as PS/MS 42, so why close PS/MS 42?
·We received certificates of appreciation in May 2017 applauding our excellent improvements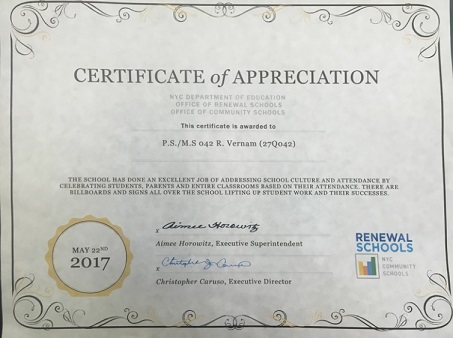 Certificate
·12/18/2017, 5 Days before the Holiday Break, Mayor DeBlasio and Chancellor Carmen Farina announced they will be closing the school to make 2 stand-alone screened schools (under the criteria for entrance to these types of schools the surrounding community children will struggle to gain admittance). These "new" schools will then stand ready to serve the more affluent Arverne by the Sea.
·Note the announcement was made AFTER the mayoral election and the Chancellor's resignation followed soon after.
·In September 2005 MS180 in Rockaway was closed and became the Scholars Academy. After the school was closed all local kids were placed in other schools NONE of the children who originally attended MS180 were admitted into Scholars.
PLEASE DO NOT CLOSE PS/MS 42. WORK WITH US TO MAKE THE SCHOOL WORK FOR ALL THE STUDENTS, PARENTS, AND STAFF WHO ARE IN THE SCHOOL AND WHO WANT TO STAY IN THIS SCHOOL.
We greatly appreciate your attention and urge you to reconsider this matter.
Thank you,
Jamie Haberstumpf maddam004@yahoo.com and
John Krattinger crts@optonline.net
Contact: Kevin Morgan 347-410-3061 or
Queen Makkada 347-456-6518
Betsy Combier
Editor,
ADVOCATZ.com
Editor,
ADVOCATZ
Editor,
Parentadvocates.org
Editor,
New York Court Corruption
Editor,
NYC Rubber Room Reporter
Editor,
NYC Public Voice
Editor,
National Public Voice
Editor,
Inside 3020-a Teacher Trials
From Betsy Combier:
The "Renewal" Program for failing schools in NYC was a huge scandal
for the de Blasio administration, and an
embarrassment for Carmen Farina
.
The 74 posted an article asking whether or not there was any real planning going on in the de Blasio administration:
Fool Me Twice? New York City Rejects Research Critical of Renewal Schools
We all know that the New York City Department of Education is a political institution controlled by the Mayor, all of his partners, and subject to his whims and fancies.
Racial segregation
and
misconduct
(see
here,
here,
and
here
, for a few more examples) are rampant throughout the NYC DOE. And, there is nepotism, workplace harassment, disability discrimination, bullying, civil rights violations and denial of due process all over the place.
In my opinion,
when
Carmen Farina was removed from PS 6 in February 2001
(that is a fact), and she went to District 15 to wield her authority and create havoc there, she and Bill de Blasio started cooking up the reign of error she has shown as Chancellor since
Bill took office in January 2014
. Many friends and I begged Bill not to appoint her Chancellor. Obviously, he wasn't listening.
Carmen is a master at subterfuge and deliberate miscommunication. But the opposition to Carmen Farina and her outrageous policies are not unified, even though New Yorkers are familiar with her games, at least I am. But she is the person who oversees the scams and sham policies and offices, including the ridiculous and dangerous puppets on the NYC "school board", the
Panel For Educational Policy.
Why are the members of the PEP dangerous? Because they vote on financial matters without any understanding of the consequences on the parents, students, staff, and/or community whose lives and welfare depend upon the funds voted on, and they act without any accountability to the community they supposedly serve. A very clear answer to "why doesn't the Department do something?" is: Carmen doesn't care who is speaking into the microphone for 2 minutes, she is not listening. All votes are a done deal before the PEP begins. Pouring your heart out does no good, if your goal is to have any PEP member up there on the stage listen to you or care what you think. In 2008, my dear late teacher friend Polo Colon and I attended the PEP meeting at Tweed, (
see us at a 2007 meeting
)and stayed until the meeting room was almost completely empty. Polo saw something on a chair for a PEP member, and said to me, "I'll be right back".
Polo went behind the table where the PEP members sat, picked up a couple of papers left on the chair, and brought it back to me. These papers were the script that had prepared answers to whatever questions were asked at the meeting. There was a warning, that no mere "opinions" were to be given by any member on the PEP. All the answers given in the script inferred that the person asking did not know what they were asking, and told the PEP member to not answer.
I was at the January 24th meeting (
see me sitting on the left, next to the speaker
) where people spoke about how there was no plan, no discussion, no parental involvement; we heard heartache and trauma about the closing/merging/truncating of schools. No one on the PEP cared. No one.
The way Carmen does things is to make a change, then give Notice, and tell people they can speak for two minutes before the PEP members vote. There is something very wrong about this process. In fact, it is backward. First should come the discussion. Second, the strategy to accommodate the community and the parents and kids. Third, to integrate the programs and strategies that will accommodate all parties. Then, as a last resort, if nothing else works, a vote to close/merge or join together the schools under review. Right?
It is completely wrong for Carmen Farina, Bill de Blasio, and all their nameless partners, to close PS/MS 42 in Averne Queens.
Now, we need a lawyer to file an Injunction and Order To Show Cause to stop the vote on the closure of PS/MS 42 on February 28, 2018. Are you a lawyer? Contact me at betsy.combier@gmail.com. Please help the staff, students, parents and community of PS/MS 42 stay open!!!!!!!
Betsy Combier
Editor, ADVOCATZ.com
Editor, ADVOCATZ BLOG
Editor, Parentadvocates.org
Editor, New York Court Corruption
Editor, NYC Rubber Room Reporter
Editor, NYC Public Voice
Editor, National Public Voice
Editor, Inside 3020-a Teacher Trials
From the PS/MS42 community:
We are a
renewal school,
serving our community and working hard to improve. In fact, our school is making steady progress in test scores and quality reviews, by the New York City Department of Education's own measures.
* Of all New York City K–8 renewal schools, PS/MS 42Q has shown the largest percentage point growth from 2014-15 and 2016-17 in math and ELA combined, with 10.5 points in ELA and 6.5 points in math, for a combined 17 point increase.
* Of all the K–8 renewal schools, only PS/MS 42Q received a student achievement rating of "Meeting Target." All other K – 8 renewal schools received a rating of "Approaching Target or Not Meeting Target."
* PS/MS 42Q had the highest percentage rating for rigorous instruction at 86% for all New York City K–8 renewal schools.
* PS/MS 42Q has the highest percentage of teacher attendance, at 97.3%, of all K–8 renewal schools.
* PS/MS 42Q has met five out of seven target goals, including effective school leadership, trust, collaborative teachers and student achievement.
We also have a high level of community engagement, which sets us apart from many other renewal schools. Our school is a lifeline for the surrounding neighborhood, with community dinners for families, a service-learning model in which students read to seniors at a local nursing home and overall high community involvement.
Ninety-six percent of parents say that teachers at this school work closely with families to meet students' needs. Students say that they are learning a lot in classes at their school to prepare them for the next grade (96%). Students also say that most students try hard to get good grades (85%) and students behave well even when the teacher isn't watching (56%).
That's why parents, teachers, administrators and local politicians are working together to save our school. We've been working hard and are pleased to see our quality review metrics, school climate and student academic achievement all show improvement.
Our school welcomes all students and serves a population that has greater challenges than at least 90% of the schools in New York City. We are proud of our mission and proud of our achievements.
Please don't stop our progress! We hope to continue working for all the students and families we serve. Look again at our school — we urge you to reconsider this closure. Twenty K-8 schools had lower passing rates in ELA than PS/MS 42Q. In addition, while PS/MS 42Q met its ELA achievement target, 19 of these 20 did not. Only one of these schools is slated for closure. Source: New York City Department of Education, School Quality Report, 2017.
Letter to Chancellor Carmen Farina from NY City Council Member Donovan Richards:
Harkening back to earlier era, struggling New York City school fights closure but faces long odds
Kevin Morgan, the Parent Association president at P.S./M.S. 42, is leading a fight to keep the
Rockaway school open
BY CHRISTINA VEIGA - JANUARY 9, 2018
A decade ago, teachers
picketed
P.S./M.S. 42 R. Vernam in Rockaway, Queens and declared the campus unsafe. Parents said the building was in horrible shape — some areas reeked of urine — and they petitioned the education department to close the school and start over.
But when Mayor Bill de Blasio took office, he had a different idea: Rather than shut its doors, he would revamp it. After three years in deBlasio's "
Renewal" improvement program
, which injects troubled schools with academic supports and social services, P.S./M.S. 42 appeared to be making progress: Its test scores and quality reviews have steadily improved. Enrollment, while lower this year, has mostly been stable.
So
when the education department announced plans last month
to shutter P.S./M.S. 42 and 13 other low-performing schools, many in the school community were shocked.
"We think that this is a mistake
," said Donovan Richards, the local city councilman who said that when he met with schools Chancellor Carmen Fariña shortly before the announcement, far from declaring the school a lost cause, she praised its recent strides and discussed ways to celebrate them.
"You have this glimmer of hope and turnaround in the building," he added, "and yet we're reversing the progress."
Now, parents, teachers and local political leaders are vowing to fight its closure. The coalition has launched an aggressive social media campaign, printed highlighter-yellow T-shirts declaring the school "strong and united," and planned rallies at the school and in Albany, where the school's supporters traveled Tuesday to make their case to state lawmakers.
On a recent morning, Kevin Morgan, the school's parent association president, went to his local congress member's office to appeal for help, and brought in a motivational speaker to inspire students as they drafted essays in defense of their school.
"It's not fair," he said. "They need to rethink what they're about to do. How is this going to affect these children?"
The fight puts the mayor in the uncomfortable position of defending the closure of a low-performing school despite signs of improvement and vocal opposition from some parents — a scenario he railed against when running to replace then-Mayor Michael Bloomberg.
At the time, de Blasio blasted Bloomberg
for
disregarding the will of parents
in his zeal to shutter and replace troubled schools without first giving them a chance to rebound.
Now, after investing $582 million in a program meant to offer bottom-ranked schools the second chance he said they had been denied, de Blasio finds himself coming to the same conclusion as his predecessor: Some underachieving schools simply can't be resuscitated — at least not quickly enough — so better to pull the plug and start fresh.
"After a serious effort, we do not think, with their current structures, they can make it," de Blasio said on NY1 the day the closures were announced. Still, he defended the turnaround effort, saying that, without it, "we would have continued to see closures without an honest effort to fix the problem."
In the case of P.S./M.S. 42, the education department is proposing to replace it with two new schools — an elementary school and a middle school — in the same building.
It's likely they will serve many of the same students as the school they're supplanting, though some parents worry the new schools may deploy admissions criteria that will screen out some of P.S./M.S. 42's current students. An education department spokesman said the new schools would not turn away any P.S./M.S. 42 students. The new schools may also employ many of the same teachers, under a contract rule that says at least half the positions in replacement schools must be offered to teachers at closed schools who apply and hold the right qualifications.
P.S./M.S. 42 boosters hope the new schools never have a chance to open. But they face long odds: Under de Blasio, very few schools on the chopping block have managed to escape.
Last year, the Panel for Educational Policy — an oversight board where the majority of members are appointed by the mayor — signed off on all of the city's proposed closures. Even when parents at J.H.S 145 in the Bronx mounted a campaign to keep the middle school open, only five of the 13 panel members voted against its closure.
The city's plan to shutter P.S./M.S. 42 follows a yearslong, grassroots effort to save it.
Today, one of the leaders of that campaign is an unlikely champion: a parent named Queen Makkada, who called for the school's closure in 2010 when her two children went there. At one point, her daughter was attacked by a group of boys, and students were known to roam the hallways unsupervised.
Queen Makkada says P.S./M.S. 42 has struggled in the past, but is now showing improvement.
"We literally had first graders cutting class," Makkada said. A
joint city-state report
from 2011 said teachers there "demanded little" from students and parents complained about unchecked bullying among students.
Makkada says things began to turn around when the current principal, Patricia Finn, took over about seven years ago. Finn did not respond to a request for comment.
The principal smoothed over relations with teachers, who have filed far fewer grievances under her than the previous administration, according to their union. And she forged relationships with skeptical parents, Makkada said. Last year, 90 percent of parents who responded to a school survey said the principal works to build community.
"All the stakeholders had to come together and change it," Makkada said. "These parents went through the process to improve a failing school."
At the same time that parents were getting more involved, the school facilities were getting an upgrade. In 2011, a gleaming new addition was built onto the building, and there are plans for a new $7 million playground, according to the city councilman.
The Renewal program, which launched in 2014, marked a new wave of investment in P.S./M.S 42. A community-based nonprofit — Family Health International, which goes by FHI 360 — brought much-needed mental health supports for students, including one-on-one counseling. The school day was extended by an hour. And the school has launched several initiatives aimed at improving school culture, including training students to help resolve conflicts among their peers, parents said.
Since 2014, the school has received improved "quality review" ratings from official observers, and its test scores have ticked upwards. In fact, elementary students at P.S./M.S. 42 earned higher scores on the state English and math tests last year than the average among Renewal schools that the city is keeping open. Its middle-school students perform just below that average.
And enrollment, a key factor that chancellor Fariña says the education department considers when recommending closures, grew by dozens of students the first few years of the program. This past year, its population declined to just over 660 students — but that's still higher than before becoming a Renewal school.
Given the progress, parents don't understand why their school is targeted for closure.
"This is ripping everything apart," said Morgan, the parent-association president.
But despite the recent improvements, the majority of the school's students still are far behind where they should be.
Only 17 percent of elementary students and 14 percent of middle schoolers passed last year's state English tests — compared with 40-41 percent of students citywide. In math, 14 percent of elementary students and 6 percent of middle schoolers passed the tests, compared with 42 percent and 33 percent citywide.
Meanwhile, a stubbornly high share of students are chronically absent, despite a major push by the city to boost attendance at Renewal schools. More than 45 percent of P.S./M.S. 42 students miss 10 percent or more of the school year, compared to 36 percent among all Renewal schools and about 26 percent among all city schools, according to the education department.
"This decision to propose a school closure was made based on a careful assessment of the school community as a whole," Aciman, the department spokesman, said in a statement. He added that community engagement is an important part of proposed closures, and said officials will respond to parents' questions and concerns.
Officials will hold a public hearing at the school on Jan. 10, before the Panel for Educational Policy votes Feb. 28 on whether to approve the city's closure plans.
Among the P.S./M.S. 42 parents who will ask the panel to spare the school is Willard Price.
He said teachers have given his son, William, extra help in math and handwriting, and principal Finn has invited him to eat lunch in her office when he felt overwhelmed by the cafeteria. Now, William earns high marks on his report cards and would like to remain at P.S./M.S. 42 for middle school, his father said.
"I think that's messed up, trying to close the school," William said. "This school is the only school I ever liked."
Here are PEP members' emails if you want to share your thoughts ahead of time (recommended):
Peter Calandrella - Staten Island Representative
Email: PCalandrella@schools.nyc.gov
Isaac Carmignani
Email :ICarmignani@schools.nyc.gov
Geneal Chacon - Bronx Representative
Email: GChacon@schools.nyc.gov
April Chapman - Brooklyn Representative
Email: AChapman7@schools.nyc.gov
T. Elzora Cleveland
Email: ECleveland@schools.nyc.gov
Deborah Dillingham - Queens Representative
Email: DDillingham@schools.nyc.gov
Michael Kraft - Manhattan Representative
Email: MKraft2@schools.nyc.gov
Vanessa Leung - Panel for Educational Policy Chair
Email: VLeung@schools.nyc.gov
Gary Linnen
Email: GLinnen@schools.nyc.gov
Lori Podvesker - Panel for Educational Policy Vice Chair
Email: LPodvesker@schools.nyc.gov
Ben Shuldiner
Email: BShuldiner@schools.nyc.gov
D. Miguelina Zorilla-Aristy
Email: MZorillaAristy@schools.nyc.gov