The process used to close schools is detrimental to the lives and futures of the children, the stability of the community, and the careers of excellent, dedicated staff from all the unions, tenured and untenured. At the PEP meeting last night I sat next to a 7th grader from Urban Science Academy IS 325, a school that was voted to close. She told me how she had finally found a school and teachers where she and her family felt "safe" and she "could strive for achievement and success". Did Chancellor Carmen Farina check on the feelings of the children and parents before she arbitrarily placed 325 on a list to be closed? I don't think so. Betsy Combier, Editor, Parentadvocates.org
Wow.
Six members of the NYC DOE puppet school board, the
Panel For Educational Policy
, voted no to the proposed closing of PS/MS 42 and IS 53.
Thanks to the wonderful and timely protests of
Queens Borough President Melinda Katz
, NY
State Assemblywoman Stacey Pheffer Amato,
Letitia James
,
The Wave,
,
District 31 Councilmember Donovan Richards
and
UFT Chapter Leader John Krattinger
, the decimation of PS/MS 42 (and 53) was averted!
Kudos to all the teachers, staff, parents, students, politicians and media who exposed the improper and harmful Department of Education policy of closing schools before researching the data on the success and improvement of the schools........A huge mistake which, in my opinion, cost Carmen Farina her job.
Goodbye, Carmen
, please enjoy your permanent retirement.
Betsy Combier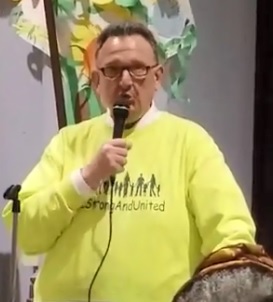 UFT Chapter Leader John Krattinger
Panel Votes to Close 10 Struggling New York SchoolsHundreds of parents made last-minute pleas for their children's schools to be saved
By Leslie Brody
Wall Street Journal, Updated March 1, 2018
Hundreds of upset parents and students showed up Wednesday night at a
contentious meeting in Manhattan,
where a city panel voted to close 10 of 13 public schools that the
city education department sought to shut this summer.
About 200 people signed up to comment, so the meeting stretched well into Thursday morning. Many carried colorful signs pleading for their schools' survival. At one point, the crowd chanted, "Save our schools."
The closures planned by the New York City Department of Education make up the biggest batch under Mayor Bill de Blasio, who has called shutting schools a last resort. Mr. de Blasio's approach for the nation's largest school district marks a stark contrast to his predecessor, Michael Bloomberg, who closed more than 100 low-performing schools and often replaced large schools with small, themed ones.
The
Panel for Educational Policy
, a board dominated by mayoral appointees, made the decisions. Most of the schools are in the Bronx and Manhattan. The list includes elementary, middle and high schools.
A department spokeswoman said proposals to close two Queens schools, M.S. 53 and
P.S./M.S. 42
didn't pass, and a vote was postponed on High School for Health Careers and Sciences in Manhattan.
Gustavo Angeles, a seventh-grader at Urban Science Academy in the Bronx, worried that closing the school would rip him from friends. "For me and my sister, it feels like a second home for us," he said. "Our teachers always care for us."
Melinda Vazquez, a mother at P.S. 92 in the Bronx, said it was a refuge in a violent area and should stay open. "At least I know the school is safe," she said.
Department of Education officials said the schools couldn't be saved due to a mix of problems such as dwindling enrollment, poor achievement, high absenteeism and weak leadership. Officials said the department would help roughly 2,600 students affected find places in other schools.
Eight schools expected to be closed are what Mr. de Blasio called "Renewal schools," which received extra resources, such as longer hours, teacher training and social services. Mr. de Blasio set up the program in an effort to avoid closing struggling schools.
Some charter-school advocates said it would have been better to replace failing schools with new ones early on. Some educators and parents said the Renewal schools' progress was hobbled by red tape, staff turnover, large class sizes and the stigma of being in the program, among other problems.
The department announced in December that 21 schools had done well enough to graduate from the program. After closures and mergers, there will be 47 Renewal schools left next fall, down from 94 at the program's start in late 2014. Since its beginning, the Renewal initiative is expected to cost $582 million in total by June.
One school slated to be closed is the site where the mayor announced the Renewal plan, Coalition School for Social Change. The high school's enrollment dropped to 122 teenagers, and only 7% were deemed on track for college readiness, city data showed.
Also to be closed is Urban Assembly School for Wildlife Conservation, where a student was fatally stabbed in September. A classmate was indicted on manslaughter charges and pleaded not guilty.
Parents often protest closures, saying they rely on familiar teachers and neighborhood hubs. Some said their schools didn't get enough time or money to improve. Energetic activism by families and local politicians got one school off the chopping block, Brooklyn Collegiate: A College Board School. It had a 63% graduation rate last spring, but fans argued that rate would rise this year and the school was better than nearby options.
"Rather than helping students, closures disrupt whole communities," said Public Advocate Letitia James in a letter in February to Chancellor Carmen Fariña. She said closings disproportionately hurt children of color and low-income students.
City Councilman Brad Lander, a Brooklyn Democrat, said Tuesday in a hearing on Renewal schools that the department should take stronger steps toward integrating schools as a way to improve achievement and spread resources more fairly. He said the department's efforts to diversify schools and fix troubled ones shouldn't be on separate tracks.
"Segregation is a big part of the reason our schools fail a lot of our kids, in particular low-income kids and kids of color," he said.
Write to Leslie Brody at leslie.brody@wsj.com
Email to PEP Concerning Meeting February 28, 2018: Do Not Close PS/MS 42 in Queens
from:
betsy.combier@gmail.com
to:
ICarmignani@schools.nyc.gov,
GChacon@schools.nyc.gov,
AChapman7@schools.nyc.gov,
ECleveland@schools.nyc.gov,
DDillingham@schools.nyc.gov,
MKraft2@schools.nyc.gov,
VLeung@schools.nyc.gov,
GLinnen@schools.nyc.gov,
LPodvesker@schools.nyc.gov,
BShuldiner@schools.nyc.gov,
panel@schools.nyc.gov,
Betsy Combier
,
crts@optonline.net,
LeRoy Barr
TO: PEP Members
RE: Vote on the Closing of PS/MS 42

Hello to all members.
I am a parent advocate and I support the parents, students, Queens Borough President Melinda Katz, the NAACP, and teachers/staff at PS/MS 42 in demanding that you individually and collectively not vote to close PS/MS 42 at the PEP meeting tonight.

I have referred a lawyer to the friends and supporters at 42, and he is ready to pursue whatever action is needed to stop the damage that will ensue as a result of a vote to close PS/MS 42.

Please see my posts below.

Respectfully,

Betsy Combier
Editor, ADVOCATZ.com
Editor, ADVOCATZ
Editor, Parentadvocates.org
Editor, New York Court Corruption
Editor, NYC Rubber Room Reporter
Editor, NYC Public Voice
Editor, National Public Voice
Editor, Inside 3020-a Teacher Trials

Parents, Staff, and the Queens Community Rally Against the Arbitrary Decision By the NYC Department of Education To Close PS/MS 42

The District 27 Queens community as well as the staff, parents and students of PS/MS 42 are outraged that the NYC Department of Education will close PS/MS 42 in June 2018 without a valid reason. The trouble is that in NYC decisions are made in secret as part of a political pay-to-play scheme for which Mayor Bill de Blasio and Chancellor Carmen Farina are famous. This closure is clearly directed at displacing a powerful group of UFT members at PS/MS 42 who will, in September, be placed into positions as substitute staff nomads, roaming different assignments in Queens as Absent Teacher Reservists (ATRs). Bill and Carmen, STOP the vote!!! Protest by Editor Betsy Combier

NYC Chancellor Farina Visits PS/MS 42 To Push Her Closing; Queens BP Melinda Katz Says Don't Close 42

New York City schools slated to close, including school where student fatally stabbed
Monday, December 18, 2017

NEW YORK CITY (WABC) -- New York City Schools Chancellor Carmen Farina announced a proposal Monday to close several struggling schools and merge or truncate others.

Officials say 15 proposed interventions are part of the Renewal School program, based on thorough analyses of school quality that included test scores, enrollment, graduation rates, college readiness, attendance, chronic absenteeism, classroom instruction and school leadership. Five schools that are not in the Renewal program have also been stamped for closure.

Farina determined that students currently attending schools proposed for closure or truncation will be better served at the stronger school options available to them. The DOE's Office of Student Enrollment will work individually with each impacted student at a closing or truncating school to ensure they have a seat at a higher-performing school next year.

The 9 Renewal Schools proposed for closure are:
PS 050 Vito Marcantonio (04M050)
Coalition School for Social Change (04M409)
High School for Health Careers and Sciences (06M468)
New Explorers High School (07X547)
Urban Science Academy (09X325)
PS 92 Bronx School (12X092)
Brooklyn Collegiate: A College Board School (23K493)
PS/MS 42 R. Vernam (27Q042)
MS 53 Brian Piccolo (27Q053)

The 5 Renewal Schools proposed for merger are:
Holcombe L. Rucker School of Community (08X332) and Longwood Preparatory Academy (08X530) - Longwood Preparatory Academy will be the prevailing school. Both schools are Renewal Schools, both schools are in the same building, and the merged school will remain in the Renewal program next year.

Accion Academy (12X341) and Entrada Academy (12X384) - Accion Academy, which is not in the Renewal program, will be the prevailing school.

East Flatbush Community and Research School (18K581) and Middle School of Marketing and Legal Studies (18K598) - East Flatbush Community and Research School, a Rise school, will be the prevailing school. Both schools are in the same building.

Middle school grades of Gregory Jocko Jackson School (23K284) and Brownsville Collaborative Middle School (23K363) - Brownsville Collaborative Middle School, which is not in the Renewal program, will absorb the middle school grades of Gregory Jocko Jackson School. The elementary school grades at Gregory Jocko Jackson School will remain in the Renewal program.

The 1 Renewal School proposed for truncation is:
Middle school grades of Wadleigh Secondary School for The Performing Visual Arts (03M415) - Next year, the school will serve students in grades 9-12.

This truncation is part of a targeted plan to revamp the high school's arts program. Beginning this year, Wadleigh will enter the Arts High School Planning Process which will include additional funding and extensive support from the DOE's Office of Arts and Special Projects, new partnerships with the Harlem School of the Arts and Jazz at Lincoln Center, and the development of a rigorous arts curriculum. The goal of this process is to transform Wadleigh into one of New York City's top audition arts high schools. Wadleigh's staff and administration will also begin regular visits to other arts high schools across the City that have successfully completed the Planning Process.

The 5 schools proposed for closure that are not in the Renewal program are:
KAPPA IV (05M302)
Academy for Social Action (05M367)
Felisa Rincon de Gautier Institute (08X519)
Urban Assembly School for Wildlife Conservation (12X372)
Eubie Blake School (16K025)

The Renewal School program supports long-struggling schools by setting clear goals, providing targeted resources and holding each school accountable for sustainable improvement.

The Urban Assembly School for Wildlife Conservation is where a student was fatally stabbed, allegedly by a classmate, earlier this year. The Department of Education has been monitoring this school and provided ongoing support dating back to the 2016-17 school year, including placing additional safety agents at the school and increasing training for staff members.

Following the stabbing, which also left another student critically injured, DOE leaders have visited the school frequently, including several visits from Farina. The DOE has also strengthened safety measures, selected a new leader, expanded parent engagement and offered more instructional resources and training. Despite these additional interventions, there continues to be instability for students and staff, and the chancellor has determined that Wildlife students will be better served at another school.

Education officials also announced a new school designation called Rise Schools for 21 Renewal Schools that have seen steady gains across multiple measures. All Rise Schools met at least 67 percent of their benchmarks, are not on the state's Priority list, and have demonstrated a sustainable school improvement structure that will allow them to build on their progress with fewer Renewal School resources.

The following 21 schools will be designated Rise Schools:

Manhattan
PS 015 Roberto Clemente (01M015)
Orchard Collegiate Academy (01M292)
Renaissance School of the Arts (04M377)
IS 528 Bea Fuller Rodgers School (06M528)

Bronx
PS 154 Jonathan D. Hyatt (07X154)
Bronx Early College Academy for Teacher and Learning (09X324)
DreamYard Preparatory School (09X329)
JHS 080 The Mosholu Parkway (10X080)
The Bronx School of Young Leaders (10X331)
Urban Scholars Community School (12X463)

Brooklyn
PS 067 Charles A. Dorsey (13K067)
JHS 050 John D. Wells (14K050)
East Flatbush Community Research School (18K581)
Brooklyn Generation School (18K566)
PS 328 Phyllis Wheatley (19K328)
Cypress Hills Collegiate Preparatory (19K659)

Queens
Pan American International High School (24Q296)
PS 197 The Ocean School (27Q197)
JHS 008 Richard S. Grossley (28Q008)
Ebbets Field Middle School (17K352)
John Adams High School (27Q480)