Reality Check From Betsy Combier On: "A Rubber Room By Any Other Name..." by Tom Segal
From Betsy Combier: Mr. Thomas Segal, whoever he is, is so off track in his article re-posted below that I had to step in with my 10 years' of experience in researching the how, why, when, and where of the Rubber Rooms....when you read about the "rubber rooms" think about people sitting there, some guilty but getting paid for doing nothing, and others, innocent and getting paid while they await the foreclosure on their homes, the end of their careers, being on the sex registry for no factual reason and solely as the result of some whim of an administrator who wants to save money in the school budget.
From Betsy Combier, Editor
Mr. Thomas Segal, whoever he is, is so off track in his article re-posted below that I had to step in with my 10 years' of experience in researching the how, why, when, and where of the Rubber Rooms.
It is true that the re-assignment centers for teachers were nicknamed "rubber rooms" many years ago, no one is exactly sure whether it was 10 or 30 years ago. The large warehouses ended in 2010 because the New York City Board/Department of Education suddenly woke up to the fact that when 100 people share a room or space, the people there develop alliances, become a community, and try to organize. The DOE wants to get rid of every tenured teacher making a high salary. The DOE also wants to get rid of expensive staff in a way that all the false claims about the person will hold up at the 3020-a hearing, which all tenured teachers are given before they are "punished" for their misconduct or incompetency. 100 people talking together is dangerous to this effort because people talk about Rights, Laws, and who is good or bad at getting the right information to the right people at the right time.
The
United Federation of Teachers (UFT)
and the
New York State United Teachers (NYSUT)
do nothing as these imprisoned people are accused and found guilty of charges that are, in most cases, ridiculous and false. (Im
not
talking about the true miscreants who are actually guilty of what they are charged with). The national outrage against people sitting around getting paid to do nothing is valid IF and ONLY IF the person is actually a bad teacher and guilty of whatever he/she has been charged with. An excellent teacher who truly loves his or her job and has been removed from his or her classroom so that the DOE can permanently stop him or her from teaching is another matter. And dont forget that any employee removed on a whim - no matter how excellent or incompetent he or she is - is replaced by someone who knows nothing about the subject, the curriculum, or even teaching.
In his article Mr. Segal mentions
Christine Rubino
, the teacher who, in a moment of frustration, said to her closed circle of friends on facebook, that she hated her students and would like to take them to the beach. This was a stupid thing to say, but it happened. Christine saw, a few days later, that it was stupid, took it down, and forgot about it. Unfortunately, one of her Facebook friends was a teacher at the school, David Senatore, who wanted Christine to be removed from the school because she was very popular and a favorite of the Principal, and also, she knew that he was taking boys home with him after the after school program, and allowing them to use his swimming pool, buying them new underwear, etc.. Her removal, he thought, would make his afterschool fun easier. He was removed after Christine's 3020-a (I was there, helping Christine's lawyer Brian Glass, and heard David Senatore testify against Christine) in March 2012, and sits in a "rubber room" today, getting his full salary to do nothing. I have a problem with this.
Meanwhile, Christine was, testified the principal at the 3020-a, the best teacher in the school, and she did not want Christine to be terminated but was forced to charge Christine because "legal" told her to. Christine appealed, and New York State Supreme Court Judge Barbara Jaffe ruled that she had to be given a lesser penalty. The NYC Law Department appealed this to the Appellate Division, First Department. Christine remains terminated and at home, without even unemployment to sustain her and her two children. ..while David Senatore sits in the 335 Adams St., Brooklyn, offices and does nothing while getting paid his full salary. By the way, David called me up to ask me to help him find one of the boys who was at his school. I heard all about his swimming pool adventures, and how he "really" loved these boys.
So, when you read about the "rubber rooms" think about people sitting there, some guilty but getting paid for doing nothing, and others, innocent and getting paid while they await the foreclosure on their homes, the end of their careers, being on the sex registry for no factual reason, etc.
How random, arbitrary, and capricious is this?

Tom Segal
rethinkeducation
A Rubber Room By Any Other Name...
By Tom Segal on October 17, 2012 8:58 AM
Education Week
LINK
Do people know about rubber rooms?
Obviously some of the folks reading this particular blog know about them, but my audience tends to skew on the side of educationally-aware. But are regular, everyday folk aware of their existence?
In case you are not, rubber rooms (or "reassignment centers") are what Wikipedia describes as "holding facilities" for the New York City Department of Education. They are essentially jail cells for teachers accused of misconduct awaiting resolution of their case while being paid in full to do nothing. As a resident of Manhattan (and a rational human being), this concerns me.
Yesterday, I came across a
link to the Daily News
that sparked my recollection of the rubber room phenomenon. Reading it, I thought to myself, "gee, that's funny. I thought
Mayor Bloomberg had done away with rubber rooms a couple years ago
."
As it turns out, the rubber-rooming process has just been streamlined (slightly), and while the rubber rooms themselves have been disbanded, they have simply fractured into unused offices/closets/lockerrooms that serve as the equivalent of solitary confinement to the old rubber rooms' communal holding cell.
These rubber-roomers get paid a fine salary to perform such tasks as counting the amount of chairs in a school building (a month-long assignment) and practicing pitching a softball (unclear how successful this endeavor can be in a supposedly cramped space). While the $22 million being paid to these rubber-roomers (not counting the paychecks of substitutes taking their place) is certainly a step up from the $30-40 million before the Bloomberg crackdown, it's still TWENTY TWO MILLION DOLLARS being paid to "teachers" to accomplish NOTHING.
Now, I understand that many of these rubber-roomers may have perfectly valid excuses for how they wound up rubber-roomed, and indeed the arbitration process they are waiting on may very well clear their names. However, there is no excuse at all for the lack of production and wasted manpower, from either end of the aisle. Administrators and the DoE can't find more legitimate uses for the rubber-roomers than counting chairs? I understand they cannot have face-to-face interaction with students during their arbitration process, but I find it extremely hard to believe (especially given my familiarity with Learning Management Systems through my work at Rethink Education) that there are no data input projects or things of that nature worth tasking the rubber-roomers with. Perhaps these rubber-roomers can be spearheading fundraising efforts for the very schools whose funds they are currently draining? Services like
Schoola
make this rather easy to accomplish these days.
On the other side, do these rubber-roomers feel comfortable accepting a paycheck from the state for twiddling their thumbs (or practicing their slow-pitch softball form, apparently) for five days a week when that money could be going to far more legitimate causes in the education of our kids? Just seems inherently wrong to me. I readily admit that I do not have all the information on this subject, but given the information that is public, it appears everyone carries some blame here, and nobody seems to want to make much of an effort to change. The victims, as usual: students.
One of the examples given in the Daily News article of a teacher stuck in the new rubber room system is a teacher that wrote "After today, I am thinking the beach sounds like a wonderful idea for my 5th graders! I HATE THEIR GUTS!" on her Facebook page the day after a 12-year old girl drowned during a school trip. This "teacher" (or whatever term you may use to describe her, as teacher appears to be a stretch) somehow successfully sued to get her job back and now spends her days like the others toiling away on the taxpayer dime as the arbitration process continues.
Not helping matters is the fact that
25 of the city's 39 arbitrators from a year ago have quit
as of June 2012. Turns out they were not getting paid and are suing the DoE for $9 million (we shall see how long that process takes to unfold).
This is all truly wild stuff to an outsider like myself. New York City is currently forced to pay teachers that are not teaching while they wait for arbitrators to arbitrate on the validity of the firings, except they are not paying the arbitrators charged with potentially stripping the pay of teachers that don't teach?
My head hurts.
Troubled city teachers still bouncing around the supposedly shutdown 'rubber rooms' as city wastes $22 million a year
One $78G-a-year teacher practiced softball pitches while in 'solitary' at unusued locker room and another instructor tallied chairs as disciplinary cases dragged
BY BEN CHAPMAN, NEW YORK DAILY NEWS, OCTOBER 16, 2012, 3:00 AM
LINK
Ex-teacher Michael Portnoy says he was forced to spend 13 months in an unused locker room after a dispute with his principal and worked on softball skills to ward off boredom.
Educators accused of breaking rules, abusing kids — or simply failing to provide students with a decent education — will be paid a stunning $22 million by the city this year for doing absolutely nothing.
More than two years have passed since city officials and the teachers union announced with great fanfare that they'd found a way to shut down the infamous "rubber rooms" where as many as 800 teachers languished — sometimes for years — awaiting disciplinary hearings.
Since then, the number of teachers collecting a salary to twiddle their thumbs while their disciplinary cases plod through the system has dropped dramatically to just over 200 teachers, but a new kind of rubber room has emerged in its place.
It lives now in broom closets, unused offices — even stinky locker rooms — in school buildings all over the city.
"You start to go a little crazy," said former Bronx middle school teacher Michael Portnoy, 43, who earned more than $78,000 for sitting in a dark, unused girls' locker room for 13 months until being fired last spring over what he said was an argument with his principal.
Portnoy, who is appealing his firing from Middle School 142, began each day by getting a few hours' sleep in a beach chair while mice scurried past him on the concrete floor, he said.
He battled boredom by sticking a miniature batting cage to a peeling wall and taught himself how to pitch a softball.
"You ever see anyone in solitary confinement? It was awful," said Portnoy, who taught in city schools for 14 years. "I wouldn't go back there for anything."
Officially called "reassignment centers," rubber rooms have been around for years, populated by teachers who face disciplinary charges but are allowed to remain on the payroll by a union contract that gives them the right to a hearing before they can be fired.
Before the major rubber room reform in 2010, teachers routinely waited two years for a hearing as massive administrative holding pens overflowed with increasingly disgruntled teachers who read books, taught themselves to knit and led yoga classes at taxpayer expense.
Dating back about a decade since the city overhauled its disciplinary process for firing teachers, they came to be called "rubber rooms" because inmates said they went crazy bouncing off the walls.
"This was an absurd and expensive abuse of tenure," Mayor Bloomberg said when he announced the new reforms in April 2010. "We've been able to solve what was one of the most divisive issues in our school system."
At the time, teachers union boss Michael Mulgrew crowed that the new agreement would shepherd in a "faster and fairer process."
And the process has improved.
A flood of new arbitrators slashed the waiting time for a hearing from two years to three to six months, and the number of teachers in purgatory dropped significantly.
The total population fluctuates from one day to the next, but on an average day, there are roughly 200 teachers in limbo, officials say — a tiny portion of more than 75,000 teachers on the payroll.
Last week, the tally of rubber-roomed teachers reached 218.
Their salaries and benefits alone will cost taxpayers $22 million this year, but that's only some of the cost. The city is shelling out thousands more to pay substitute teachers to cover their classrooms.
But while the big reforms announced in 2010 were supposed to put an end to idle teachers doing nothing, today's rubber room residents say they're as unproductive as ever.
Bloomberg said they would be given work to do such as answering phones or planning curriculum — anything that didn't involve working with children — but several teachers say they've mostly just stewed.
"It's boredom — a cruel and unusual punishment," said Francesco Portelos, who made headlines this month for broadcasting a live Web video of himself surfing the Internet from a rubber room.
Teacher Francesco Portelos blogged and produced live Web video of himself surfing the Net while spending five months in limbo in 'rubber rooms' in Queens.
A science instructor from Staten Island's Intermediate School 49, Portelos has been kept in rubber rooms for more than five months for allegedly hacking into his school's website, conducting a real estate business during class time, and tampering with the investigations into his allegedly improper activities.
For the first two months, Portelos was stuck in the bleak basement copy room of an Ozone Park, Queens, office building, where he whiled away the hours by boning up on labor law and blogging about his case.
Education officials then moved him to an empty conference room in the same building, where he broadcast hours of video showing him pecking away at his laptop.
After the city learned of his webcam, Portelos was told to shut it down and work on lesson plans for his classes.
He continues to draw his yearly salary of $75,000.
Former Brooklyn teacher Christine Rubino said she was assigned to an empty cubicle in an administration building for five months and once was told to count all the chairs in the six-story building.
"There were 800 of them," Rubino said. "They told me they needed to know how many, in case there was a meeting . . . . It was the only job they gave me that month."
After Rubino tallied all the chairs in the dingy downtown Brooklyn building, she returned to her desk, where she collected her $75,000 salary and surfed the Internet while awaiting the outcome of her case.
The elementary school teacher at Brooklyn's Public School 203 was fired after making a joke about drowning her students on Facebook.
In June 2010, a day after a 12-year-old Harlem girl drowned on a school trip to a Long Island beach, Rubino ranted online: "After today, I am thinking the beach sounds like a wonderful idea for my 5th graders! I HATE THEIR GUTS!"
She was fired a year later but successfully sued to get her job back. The city has appealed the verdict that went her way in February, so she remains unemployed while her case makes its way through the courts.
Education officials claim that since no more than about a dozen mothballed instructors are holed up at any one address, the rubber rooms no longer exist.
"For some teachers, while that clock is ticking, they shouldn't be in the classroom," said city Schools Chancellor Dennis Walcott. "That's nothing to be fixed, that's part of an agreement."
Mulgrew wouldn't comment on individual teachers who said they weren't given work to do in rubber rooms, but said the current system is better than the one it replaced.
"The system has been working much better than anything we have had before," Mulgrew said. "We did not want a system where people were sitting there. We wanted a fast and fair system."
The union has not yet formally objected to conditions in the new "solitary confinement" rubber rooms.
"We signed this agreement in good faith with the city and we expect them to follow it. Fast and fair is all we ask," he said.
With Corinne Lestch
bchapman@nydailynews.com
Michael Portnoy specifications
Michael Portnoy opinion and award
Michael Portnoy Petition
Michael Portnoy transcripts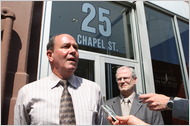 Steve Ostrin outside the Brooklyn Rubber Room at 25 Chapel Street, Brooklyn, NY
Teachers Set Deal With City on Discipline Process
By JENNIFER MEDINA, NY TIMES, Published: April 15, 2010
LINK
Betsy Combier
Facebook
Twitter
Editor,
ADVOCATZ.com
Editor,
ADVOCATZ
blog
Editor,
Parentadvocates.org
Editor,
New York Court Corruption
Editor,
NYC Rubber Room Reporter
Editor,
NYC Public Voice
Editor,
National Public Voice
Editor,
Inside 3020-a Teacher Trials